If you're thinking of making a move, one of the biggest questions you have right now is probably: what's happening with home prices? Despite what you may be hearing in the news, nationally, home prices aren't falling. It's just that price growth is beginning to normalize. Here's the context you need to really understand that trend.
In the housing market, there are predictable ebbs and flows that happen each year. It's called seasonality. Spring is the peak homebuying season when the market is most active. That activity is typically still strong in the summer but begins to wane as the cooler months approach. Home prices follow along with seasonality because prices appreciate most when something is in high demand.
That's why there's a reliable long-term home price trend. The graph below uses data from Case-Shiller to show typical monthly home price movement from 1973 through 2022 (not adjusted, so you can see the seasonality):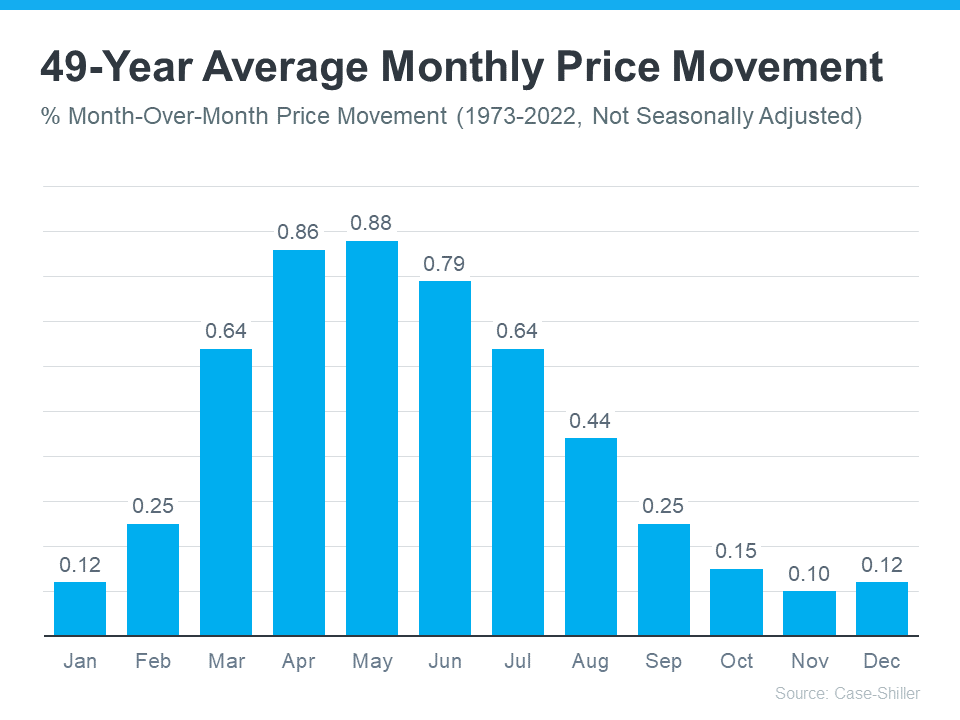 As the data shows, at the beginning of the year, home prices grow, but not as much as they do in the spring and summer markets. That's because the market is less active in January and February since fewer people move in the cooler months. As the market transitions into the peak homebuying season in the spring, activity ramps up, and home prices go up a lot more in response. Then, as fall and winter approach, activity eases again. Price growth slows, but still typically appreciates.
After several unusual 'unicorn' years, today's higher mortgage rates helped usher in the first signs of the return of seasonality. As Selma Hepp, Chief Economist at CoreLogic, explains:
"High mortgage rates have slowed additional price surges, with monthly increases returning to regular seasonal averages. In other words, home prices are still growing but are in line with historic seasonal expectations."
Why This Is So Important to Understand
In the coming months, you're going to see the media talk more about home prices. In their coverage, you'll likely see industry terms like these:
Appreciation: when prices increase.
Deceleration of appreciation: when prices continue to appreciate, but at a slower or more moderate pace.
Depreciation: when prices decrease.
Don't let the terminology confuse you or let any misleading headlines cause any unnecessary fear. The rapid pace of home price growth the market saw in recent years was unsustainable. It had to slow down at some point and that's what we're starting to see – deceleration of appreciation, not depreciation.
Remember, it's normal to see home price growth slow down as the year goes on. And that definitely doesn't mean home prices are falling. They're just rising at a more moderate pace.
Bottom Line
While the headlines are generating fear and confusion about what's happening with home prices, the truth is simple. Home price appreciation is returning to normal seasonality. If you have questions about what's happening with prices in our local area, let's connect.
Generation Z (Gen Z) is eager to put down their own roots and achieve financial independence. As a result, they're turning to homeownership. According to the latest Home Buyers and Sellers Generational Trends Report from the National Association of Realtors (NAR), 30% of Gen Z buyers transitioned straight from living under their parents' roofs to owning their own homes.
If you're a member of this generation, and you're interested in pursuing your own dream of homeownership, here's some information you may find helpful on why and where your peers are buying.
The Reasons Gen Z Want To Become Homeowners
A recent survey by Rocket Mortgage identifies some of the top motivators driving Gen Z buyers to purchase a home:
"Of those surveyed, 34% said that starting or growing their family was their main motivation to buy a home. . . . Along with growing a family comes establishing a home base."
Another key reason the survey says Gen Z wants to buy is because homeownership can give them more stability (20.8%). That's because buying a home allows you to stabilize what's typically your biggest monthly expense: your housing cost.
When you have a fixed-rate mortgage on your home, you can lock in your monthly payment for the duration of your loan, often 15 to 30 years. If you keep renting, you don't have that same benefit, and you won't be protected from rising housing costs.
So, if you're ready to start a new chapter in your life or if you're craving more stability, know that your peers feel the same way, and those motivators are why they're turning to homeownership.
Gen Z's Next Stop: Where Are They Making Their Moves?
If those reasons have you feeling ready to buy, here's some information on where your peers are finding their homes that could help you with your search. According to a recent Lending Tree survey, Gen Z buyers are focusing on more affordable areas to help boost their buying power and offset the challenges that come with today's mortgage rates.
Many Gen Z buyers still want the convenience and excitement of city life, but also value the affordability, open air, and space more suburban areas offer. Jacob Channel, Senior Economist at LendingTree, explains:
". . . they want to live in a city, but they also want to be close to nature."
Locating a home that offers both of those things requires expertise. Working with a trusted real estate professional can help you find a home in your budget and desired area. Your agent will know the most affordable neighborhoods to search in. They can also highlight the amenities and features that location offers and how those are aligned with your goals. They'll also be able to walk you through how things like remote work can help you cast a broader net for your search.
Bottom Line
If you're a member of Gen Z and are just getting started on your homebuying journey, or if you want to learn more about the process, let's connect. That way, you have a guide to help you find a home that fits both your lifestyle and your budget.
Many homeowners thinking about selling have two key things holding them back. That's feeling locked in by today's higher mortgage rates and worrying they won't be able to find something to buy while supply is so low. Let's dive into each challenge and give you some helpful advice on how to overcome these obstacles.
Challenge #1: The Reluctance to Take on a Higher Mortgage Rate
According to the Federal Housing Finance Agency (FHFA), the average interest rate for current homeowners with mortgages is less than 4% (see graph below):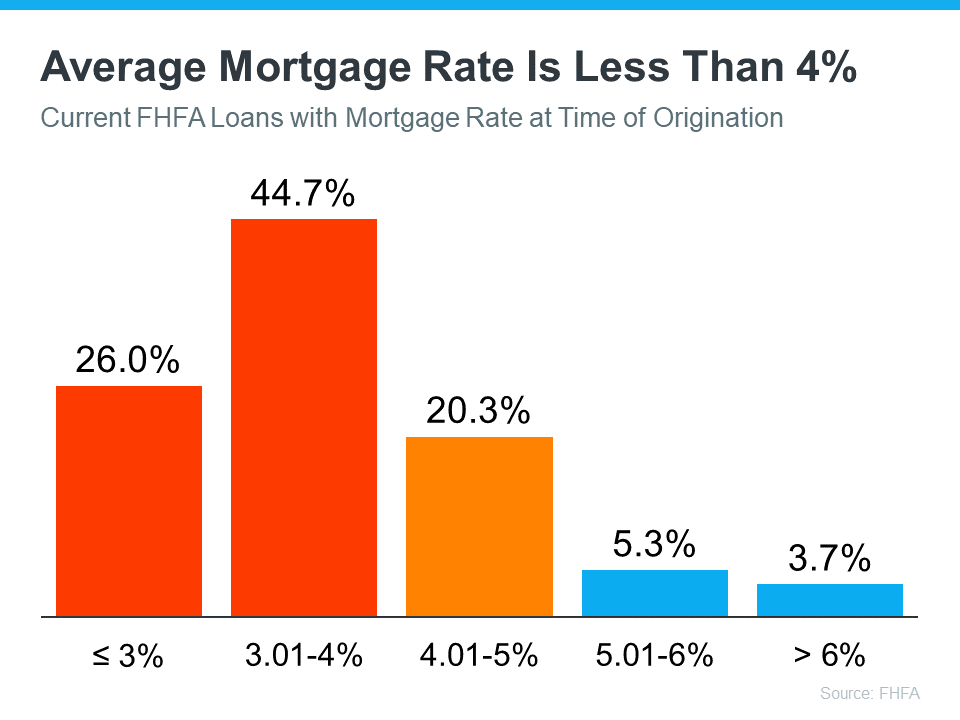 But today, the typical 30-year fixed mortgage rate offered to buyers is closer to 7%. As a result, many homeowners are opting to stay put instead of moving to another home with a higher borrowing cost. This is a situation known as the mortgage rate lock-in effect.
The Advice: Waiting May Not Pay Off
While experts project mortgage rates will gradually fall this year as inflation cools, that doesn't necessarily mean you should wait to sell. Mortgage rates are notoriously hard to predict. And, right now home prices are back on the rise. If you move now, you'll at least beat rising home prices when you buy your next home. And, if experts are right and rates fall, you can always refinance later if that happens.
Challenge #2: The Fear of Not Finding Something to Buy
When so many homeowners are reluctant to take on a higher rate, fewer homes are going to come onto the market. That's going to keep inventory low. As Lawrence Yun, Chief Economist at the National Association of Realtors (NAR), explains:
"Inventory will remain tight in the coming months and even for the next couple of years. Some homeowners are unwilling to trade up or trade down after locking in historically-low mortgage rates in recent years."
Even though you know this limited housing supply helps your house stand out to eager buyers, it may also make you feel hesitant to sell because you don't want to struggle to find something to purchase.
The Advice: Broaden Your Search
If fear you won't be able to find your next home is the primary thing holding you back, remember to consider all your options. Looking at all housing types including condos, townhouses, and even newly built homes can help give you more to choose from. Plus, if you're able to work fully remote or hybrid, you may be able to consider areas you hadn't previously searched. If you can look further from your place of work, you may have more affordable options.
Bottom Line
Instead of focusing on the challenges, focus on what you can control. Let's connect so you're working with a professional who has the experience to navigate these waters and find the perfect home for you.
The recent changes in home prices are top of mind for many as the housing market begins gearing up for spring. It can be hard to navigate misleading headlines and confusing data, so here's what you should know about today's home prices.
Local price trends still vary by market. But looking at national data, Nataliya Polkovnichenko, Ph.D., Supervisory Economist at the Federal Housing Finance Agency (FHFA), explains:
"U.S. house prices were largely unchanged in the last four months and remained near the peak levels reached over the summer of 2022. While higher mortgage rates have suppressed demand, low inventories of homes for sale have helped maintain relatively flat house prices."
Month-over-month home price changes can be seen in the chart below. The data also shows that price depreciation peaked around August. Since then, any depreciation has been even milder. In other words, today's home prices aren't in a freefall.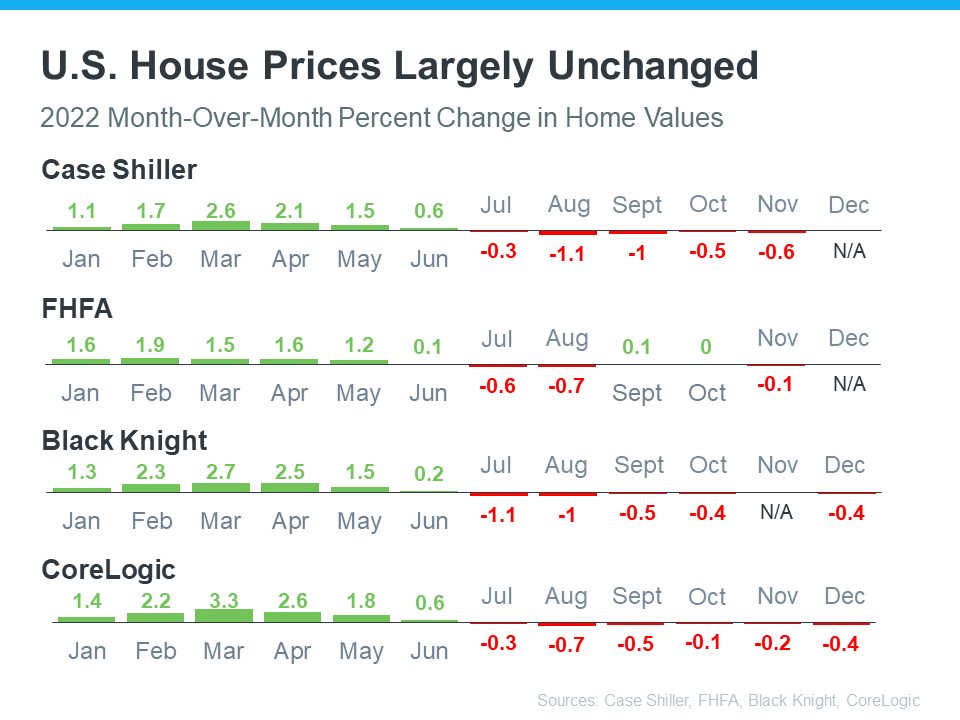 What Does This Mean for You?
If you currently own your house, you may be concerned about even the smallest decline in prices. But keep in mind how much home values grew over the last few years. Compared to that growth, any declines we're seeing nationally are likely to be minimal. Selma Hepp, Chief Economist at CoreLogic, shares:
". . . while prices continued to fall from November, the rate of decline was lower than that seen in the summer and still adds up to only a 3% cumulative drop in prices since last spring's peak."
It's also important to remember that every local market is different. That's why it's essential to lean on an expert for the latest information on home prices in your area if you're planning to make a move this spring.
Bottom Line
To understand what's going on with home prices in our market and how they could impact your goals, let's connect today.
One of the first steps in your home-buying journey is getting pre-approved. To understand why it's such an important step, you need to understand what pre-approval is and what it does for you. Business Insider explains:
"In a preapproval [sic], the lender tells you which types of loans you may be eligible to take out, how much you may be approved to borrow, and what your rate could be."
Basically, pre-approval gives you critical information about the home-buying process that'll help you understand your options and what you may be able to borrow.
How does it work? As part of the pre-approval process, a lender will look at your finances to determine what they'd be willing to loan you. From there, your lender will give you a pre-approval letter to help you understand how much money you can borrow. That can make it easier when you set out to search for homes because you'll know your overall numbers. And with higher mortgage rates impacting affordability for many buyers today, a solid understanding of your numbers is even more important.
Pre-Approval Helps Show You're a Serious Buyer
Another added benefit is pre-approval can help a seller feel more confident in your offer because it shows you're serious about buying their house. A recent article from Forbes notes:
"From the seller's perspective, a preapproval [sic] letter from a reputable local lender often can make the difference between accepting and rejecting an offer."
This goes to show, even though you may not face the intense bidding wars you saw if you tried to buy during the pandemic, pre-approval is still an important part of making a strong offer. In fact, Christy Bieber, Personal Finance Writer at The Motley Fool explains it may be the most important part of making an offer:
"Pre-approval maximizes the chances you'll be able to actually close the deal – and sellers want to see that.

The fact that a pre-approval gives you a better chance of getting your offer accepted is undoubtedly the most important reason to complete this step . . ."
Bottom Line
Getting pre-approved is an important first step toward buying a home. It lets you know what you can borrow and shows sellers you're serious about purchasing their home. Connect with a local real estate professional and a trusted lender so you have the tools you need to purchase a home in today's market.
If buying or selling a home is part of your dreams for 2023, it's essential for you to understand today's housing market, define your goals, and work with industry experts to bring your homeownership vision for the new year into focus.
In the last year, high inflation had a big impact on the economy, the housing market, and likely on your wallet too. That's why it's critical to have a clear understanding of not just the market today, but also what you want out of it when you buy or sell a home. Danielle Hale, Chief Economist at realtor.com, explains:
"The key to making a good decision in this challenging housing market is to be laser focused on what you need now and in the years ahead, so that you can stay in your home long enough that buying is a sound financial decision."
Here are a few questions you can start thinking through as you fine-tune your goals for 2023.
1. What's Motivating You?
You're dreaming about making a move for a reason – what is it? No matter what's happening in the market, there are still many compelling reasons to buy a home today. Your needs may have changed in a way your current house can't address, or you could be ready to step into homeownership for the first time and have a space that's truly your own. Use what's motivating you as a guidepost in partnership with an expert advisor to help make sure your move will give you a lasting sense of accomplishment.
2. What Does Your Next Home Look Like?
You know you want to move, but how would you describe your dream home? The available supply of homes for sale has grown, and that could mean more options to choose from when you buy. Just be sure to keep your budget in mind and work with a trusted real estate professional to balance your wants and needs. The better you understand what's essential and where you can be flexible, the easier it can be to find the home that's right for you.
3. How Ready Are You To Buy?
Getting clear on your budget and savings is essential before you get too far into the process. Working with a local agent and a lender early is the best way to make sure you're in a good position to buy. This could include planning how much to save for a down payment, getting pre-approved for a home loan, and assessing your current home equity if your move involves selling your existing house.
A Professional Will Guide You Through Every Step of the Process
Buying or selling a home is a big process that takes expertise to navigate. If that feels a bit overwhelming, you aren't alone. According to a recent Harris Poll survey, one in five respondents see a lack of information or knowledge about the homebuying process as a barrier to owning a home. Don't let uncertainty hold you back from your goals this year. A trusted expert can bridge that gap and give you the best advice and information about today's market.
Bottom Line
Let's connect to plan how your dreams for 2023 can become a reality.
Many industries are susceptible to changes during an economic recession, and the housing market is usually no exception. If you're thinking of buying or selling a home, it's important to be aware of how a recession may impact the housing market in your area. While there's still some debate on whether we are in a recession or not, here's a quick overview of what you can expect during one.
Housing prices may drop.
One of the most obvious ways that a recession can impact the housing market is through prices. During an economic downturn, people are generally less confident about their finances and less likely to make large purchases. This can lead to a decrease in demand for homes, which in turn may cause prices to drop. Of course, this isn't always the case—housing prices may not be affected at all or could even increase during a recession—but it's something to be aware of if you're thinking of buying or selling a home.
There may be more foreclosures.
Another potential effect of a recession on the housing market is an increase in foreclosures. When people lose their jobs or have their hours reduced, they may struggle to make their mortgage payments on time. As a result, there may be more homes on the market that have been foreclosed upon. This could create more bargain-priced homes for buyers but may also lead to lower prices overall as banks try to unload these properties quickly.
The market could take longer to recover.
Finally, it's important to remember that even if the overall housing market is impacted by a recession, it will eventually rebound. However, it's worth noting that the recovery process could take longer than usual following a recessionary period. So if you're thinking of selling your home during an economic downturn, you may have to be patient while the market recovers before you see any offers come in.
A recession can have various impacts on the housing market depending on factors like location and timing. However, some common effects include lower prices and more foreclosures. It's important to be aware of these potential impacts if you're thinking of buying or selling a home during an economic downturn. Ultimately, the market will rebound but it could take some time for things to return to normal.
The leaves are turning, the air is getting colder, and pumpkin spice lattes are back on the menu. That can only mean one thing: fall is here! As the seasons change, so does the real estate market. If you're thinking of selling your home this fall, now is the time to start getting it ready. Here are a few tips to help you prepare your home for sale so you can get top dollar.
1. Curb Appeal Is Key
When potential buyers are out looking at homes, the first thing they see is the outside. You want to make sure your home has good curb appeal so that buyers are eager to see more. Start by giving your front door a fresh coat of paint in a welcoming color like deep red or hunter green. Then, make sure your lawn is manicured and all of the leaves are raked. Add some seasonal decorations like pumpkins or corn stalks to give your home a warm and inviting feeling.
2. Declutter and Depersonalize
Once you've taken care of the outside, it's time to focus on the inside of your home. Before potential buyers come through, it's important to declutter and depersonalize each room. This means getting rid of any excess knick-knacks, family photos, or personal items that could make buyers feel like they're intruding in your home rather than considering it as their own. You want buyers to be able to imagine themselves living in your home, so it's important to create a space that feels neutral and welcoming.
3. Let There Be Light
Another way to make your home feel warm and inviting is by making sure there's plenty of light shining in each room. During showings, open all of your curtains and turn on all of the lights so that each room appears bright and cheerful. You may even want to consider adding some extra light fixtures or LEDs to help brighten things up even more.
4. Focus on Fixtures and Finishes
In addition to decluttering, another way to make your rooms look bigger and brighter is by focusing on fixtures and finishes. This means replacing old or outdated light fixtures, doorknobs, cabinet hardware, etc., with new ones that are stylish and modern looking. At most hardware stores, you can find matching sets of fixtures that will give each room a pulled-together look without breaking the bank.
Getting your house ready for sale this fall doesn't have to be stressful—just follow these simple tips! Remember, curb appeal is key, declutter and depersonalize, let in lots of natural light, and focus on fixtures and finishes. By following these simple tips, you'll be well on your way toward selling your home this fall!
The residential real estate market has definitely been the shining light in this country's current economic situation. All-time low mortgage rates coupled with a new appreciation of what a home truly means has caused the housing market to push forward through this major health crisis. Let's look at two measures that explain the resilience of the real estate market.
Purchase Mortgages
The number of buyers getting a mortgage to purchase a home is a strong indicator of the strength of a housing market. Below is a graph of the week-over-week percent change in that number, as reported by the Mortgage Bankers' Association: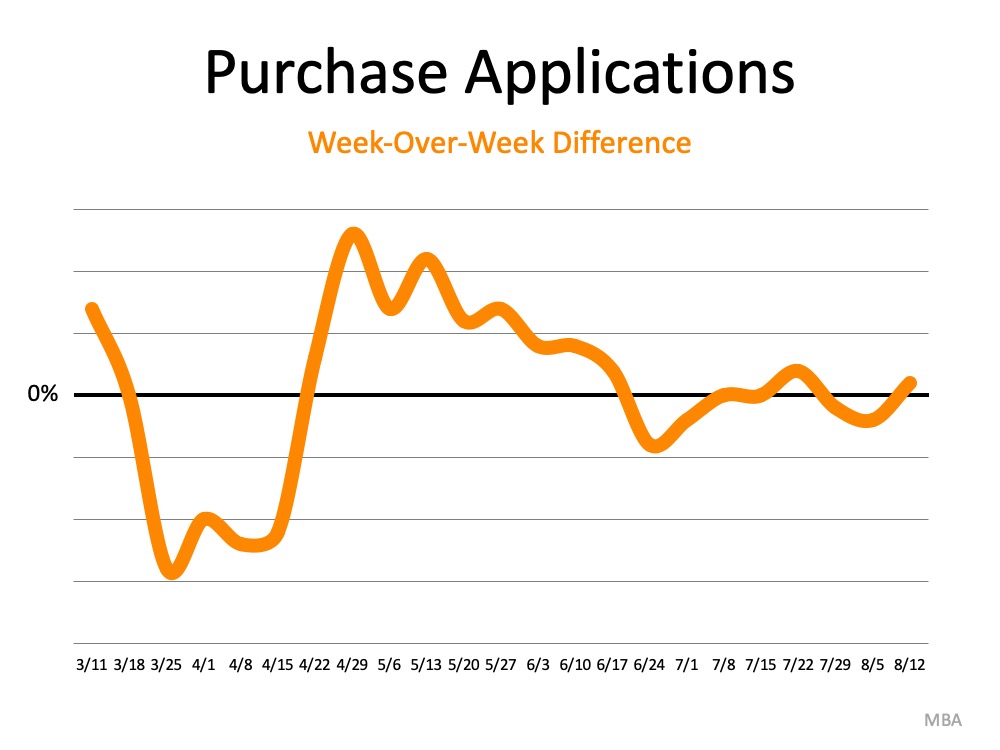 The number dropped dramatically in March and mid-April when the economy was shut down in response to COVID. It increased substantially from later in April through the middle of June. The strong increase in May and June was the result of the pent-up demand from earlier in the spring along with the normal business that would have been done during that time.
Since July, the market has remained consistent on a weekly basis, but still reflects a double-digit increase from the levels one year ago. The August 12 report shows a whopping 22% increase over last year.
Pending Contracts
Like purchase mortgages, pending contracts are also a powerful indicator of the strength of the real estate market. Zillow reports each week on the percent change in the number of homes going into contract. Here's a graph of their data: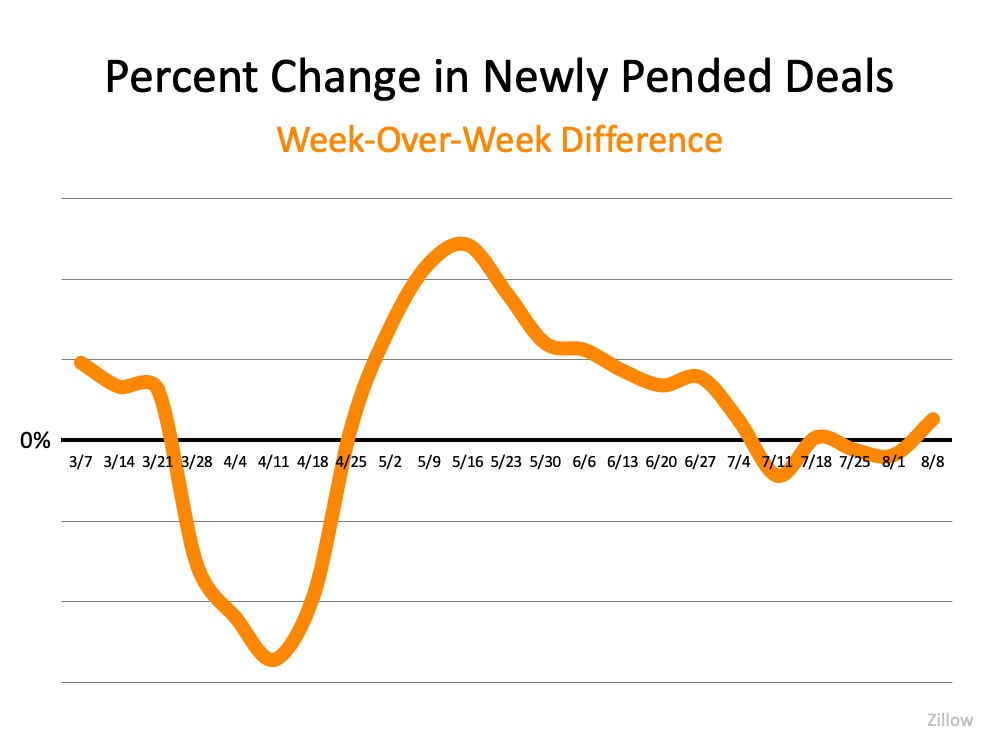 The graph mirrors the one above, showing a drop in early spring followed by a strong recovery in late spring and early summer. Then, in July, it settles into a consistent level of deals. That level, like the one for purchase mortgages, is well ahead of the level seen last year. The last report revealed that pending deals were 16.9% greater than the same time last year.
Bottom Line
Both indicators prove the housing market recovered quickly from the early setback caused by the shelter-in-home orders. They also show that Americans have realized the importance of their homes during this time and are buying more houses than they did prior to the pandemic.
In today's housing market, it can be a big challenge for buyers to find homes to purchase, as the number of houses for sale is far below the current demand. Now, however, we're seeing sellers slowly starting to come back into the market, a bright spark for potential buyers. Javier Vivas, Director of Economic Research at realtor.com, explains:
"Seller confidence has been improving gradually after reaching its bottom in mid-April, and now it appears to have reached an important recovery milestone…After five long months, sellers are back in the housing market; while encouraging, the improvement to new listings is only the first step in the long road to solving low inventory issues keeping many buyers at bay."
Even with the number of homes coming into the market, the available inventory is well below where it needs to be to satisfy buyer interest. The National Association of Realtors (NAR) reports:
"Total housing inventory at the end of June totaled 1.57 million units, up 1.3% from May, but still down 18.2% from one year ago (1.92 million). Unsold inventory sits at a 4.0-month supply at the current sales pace, down from both 4.8 months in May and from the 4.3-month figure recorded in June 2019."
Houses today are selling faster than they're coming to market. That's why we only have inventory for 4 months at the current sales pace when in reality we need inventory for 6 months to keep up. But, as mentioned above, sellers are starting to return to the game. Realtor.com explains:
"The 'housing supply' component – which tracks growth of new listings – reached 101.7, up 4.9 points over the prior week, finally reaching the January growth baseline. The big milestone in new listings growth comes as seller sentiment continues to build momentum…After constant gradual improvements since mid-April, seller confidence appears to be reaching an important milestone. The temporary boost in new listings comes as the summer season replaces the typical spring homebuying season. More homes are entering the market than typical for this time of the year."
Why is this good for sellers?
A good time to enter the housing market is when the competition in your area is low, meaning there are fewer sellers than interested buyers. You don't want to wait for all of the other homeowners to list their houses before you do, providing more options for buyers to choose from. With sellers starting to get back into the market after five months of waiting, if you want to sell your house for the best possible price, now is a great time to do so.
Why is this good for buyers?
It can be challenging to find a home in today's low-inventory environment. If more sellers are starting to put their houses up for sale, there will be more homes for you to choose from, providing a better opportunity to find the home of your dreams while taking advantage of the affordability that comes with historically low mortgage rates.
Bottom Line
While we still have a long way to go to catch up with the current demand, inventory is slowly starting to return to the market. If you're thinking of moving this year, let's connect today so you're ready to make your move when the home of your dreams comes up for sale.