The recent changes in home prices are top of mind for many as the housing market begins gearing up for spring. It can be hard to navigate misleading headlines and confusing data, so here's what you should know about today's home prices.
Local price trends still vary by market. But looking at national data, Nataliya Polkovnichenko, Ph.D., Supervisory Economist at the Federal Housing Finance Agency (FHFA), explains:
"U.S. house prices were largely unchanged in the last four months and remained near the peak levels reached over the summer of 2022. While higher mortgage rates have suppressed demand, low inventories of homes for sale have helped maintain relatively flat house prices."
Month-over-month home price changes can be seen in the chart below. The data also shows that price depreciation peaked around August. Since then, any depreciation has been even milder. In other words, today's home prices aren't in a freefall.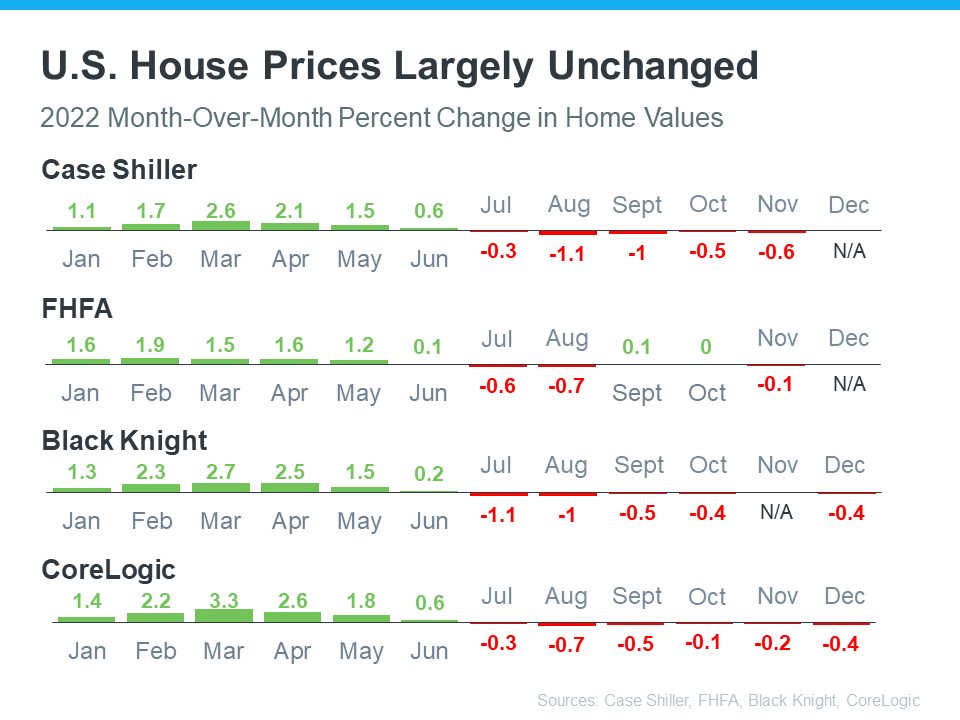 What Does This Mean for You?
If you currently own your house, you may be concerned about even the smallest decline in prices. But keep in mind how much home values grew over the last few years. Compared to that growth, any declines we're seeing nationally are likely to be minimal. Selma Hepp, Chief Economist at CoreLogic, shares:
". . . while prices continued to fall from November, the rate of decline was lower than that seen in the summer and still adds up to only a 3% cumulative drop in prices since last spring's peak."
It's also important to remember that every local market is different. That's why it's essential to lean on an expert for the latest information on the home prices in your area if you're planning to make a move this spring.
Bottom Line
To understand what's going on with home prices in our market and how they could impact your goals, let's connect today.
One of the first steps in your homebuying journey is getting pre-approved. To understand why it's such an important step, you need to understand what pre-approval is and what it does for you. Business Insider explains:
If buying or selling a home is part of your dreams for 2023, it's essential for you to understand today's housing market, define your goals, and work with industry experts to bring your homeownership vision for the new year into focus.
Many industries are susceptible to changes during an economic recession, and the housing market is usually no exception. If you're thinking of buying or selling a home, it's important to be aware of how a recession may impact the housing market in your area. While there's still some debate on whether we are in a recession or not, here's a quick overview of what you can expect during one.
Housing prices may drop.
One of the most obvious ways that a recession can impact the housing market is through prices. During an economic downturn, people are generally less confident about their finances and less likely to make large purchases. This can lead to a decrease in demand for homes, which in turn may cause prices to drop. Of course, this isn't always the case—housing prices may not be affected at all or could even increase during a recession—but it's something to be aware of if you're thinking of buying or selling a home.
There may be more foreclosures.
Another potential effect of a recession on the housing market is an increase in foreclosures. When people lose their jobs or have their hours reduced, they may struggle to make their mortgage payments on time. As a result, there may be more homes on the market that have been foreclosed upon. This could create more bargain-priced homes for buyers but may also lead to lower prices overall as banks try to unload these properties quickly.
The market could take longer to recover.
Finally, it's important to remember that even if the overall housing market is impacted by a recession, it will eventually rebound. However, it's worth noting that the recovery process could take longer than usual following a recessionary period. So if you're thinking of selling your home during an economic downturn, you may have to be patient while the market recovers before you see any offers come in.
A recession can have various impacts on the housing market depending on factors like location and timing. However, some common effects include lower prices and more foreclosures. It's important to be aware of these potential impacts if you're thinking of buying or selling a home during an economic downturn. Ultimately, the market will rebound but it could take some time for things to return to normal.
The leaves are turning, the air is getting colder, and pumpkin spice lattes are back on the menu. That can only mean one thing: fall is here! As the seasons change, so does the real estate market. If you're thinking of selling your home this fall, now is the time to start getting it ready. Here are a few tips to help you prepare your home for sale so you can get top dollar.
1. Curb Appeal Is Key
When potential buyers are out looking at homes, the first thing they see is the outside. You want to make sure your home has good curb appeal so that buyers are eager to see more. Start by giving your front door a fresh coat of paint in a welcoming color like deep red or hunter green. Then, make sure your lawn is manicured and all of the leaves are raked. Add some seasonal decorations like pumpkins or corn stalks to give your home a warm and inviting feeling.
2. Declutter and Depersonalize
Once you've taken care of the outside, it's time to focus on the inside of your home. Before potential buyers come through, it's important to declutter and depersonalize each room. This means getting rid of any excess knick-knacks, family photos, or personal items that could make buyers feel like they're intruding in your home rather than considering it as their own. You want buyers to be able to imagine themselves living in your home, so it's important to create a space that feels neutral and welcoming.
3. Let There Be Light
Another way to make your home feel warm and inviting is by making sure there's plenty of light shining in each room. During showings, open all of your curtains and turn on all of the lights so that each room appears bright and cheerful. You may even want to consider adding some extra light fixtures or LEDs to help brighten things up even more.
4. Focus on Fixtures and Finishes
In addition to decluttering, another way to make your rooms look bigger and brighter is by focusing on fixtures and finishes. This means replacing old or outdated light fixtures, doorknobs, cabinet hardware, etc., with new ones that are stylish and modern looking. At most hardware stores, you can find matching sets of fixtures that will give each room a pulled-together look without breaking the bank.
Getting your house ready for sale this fall doesn't have to be stressful—just follow these simple tips! Remember, curb appeal is key, declutter and depersonalize, let in lots of natural light, and focus on fixtures and finishes. By following these simple tips, you'll be well on your way toward selling your home this fall!
The residential real estate market has definitely been the shining light in this country's current economic situation. All-time low mortgage rates coupled with a new appreciation of what a home truly means has caused the housing market to push forward through this major health crisis. Let's look at two measures that explain the resilience of the real estate market.
In today's housing market, it can be a big challenge for buyers to find homes to purchase, as the number of houses for sale is far below the current demand. Now, however, we're seeing sellers slowly starting to come back into the market, a bright spark for potential buyers. Javier Vivas, Director of Economic Research at realtor.com, explains:
Today, home prices are appreciating. When we hear prices are going up, it's normal to think a home will cost more as the trend continues. The way the housing market is positioned today, however, low mortgage rates are actually making homes more affordable, even as prices rise. Here's why.
Today's housing market is making a truly impressive turnaround, and it's also setting up some outstanding opportunities for buyers and sellers. Whether you're thinking of buying or selling a home this year, there are perks today that are rarely available, and definitely worth looking into. Here are the top two.