Throughout Women's History Month, we reflect on the impact women have in our lives, and that includes the impact on the housing market. In fact, since at least 1981, single women have bought more homes than single men each year, and they make up 17% of all households.
Why Is Homeownership So Important to Women?
The rise in women pursuing homeownership hasn't just made an impact on the housing market. It's also been an asset for those buyers and their households. That's because homeownership has many benefits, both financial and personal.
On the financial side, housing proves to be the key to building wealth for single women. Ksenia Potapov, Economist at First American, says:
"For single women, housing has always made up a large share of total assets. Over the last 30 years, the average single woman's wealth has increased 88% on an inflation-adjusted basis, from just over $142,000 in 1989 to $267,000 in 2019, and housing has remained the single largest component of their wealth."
The financial security and independence homeownership provides can be life-changing, too. And when you factor in the personal motivations behind buying a home, that impact becomes even clearer.
A recent report from the National Association of Realtors (NAR) shares the top reasons single women are buying a home right now (see chart below):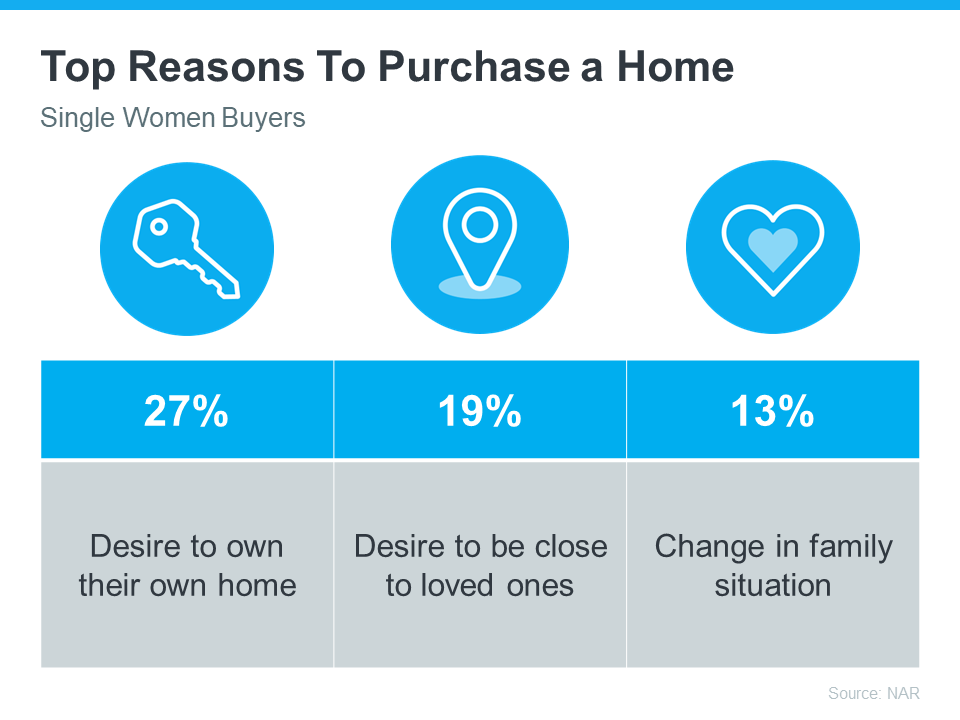 Bottom Line
Homeownership can be life-changing no matter who you are. Let's connect today to talk about your goals in the housing market.
Each year, homeowners planning to make a move are faced with a decision: sell their house during the holidays or wait. And others who have already listed their homes may think about removing their listings and waiting until the new year to go back on the market.
The truth is many buyers want to purchase a home for the holidays, and your house might be just what they're looking for. Here are five great reasons you shouldn't wait to sell your house.
1. While the supply of homes for sale has increased this year, there still aren't enough homes on the market to keep up with buyer demand. As Nadia Evangelou, Senior Economist & Director of Forecasting at the National Association of Realtors (NAR), explains:
"There's still this gap between demand and supply because we were underbuilding for many years. . . . So now we see demand is slowing, but it still outpaces supply."
2. Serious homebuyers are out looking right now. Millennials are driving homebuying demand today, and many are eager to make a purchase. Mark Fleming, Chief Economist at First American, explains:
"While not the frenzy of 2021, the largest living generation, the Millennials, will continue to age into their prime home-buying years, creating a demographic tailwind for the housing market."
3. The desire to own a home doesn't stop during the holidays. In fact, homes decorated for the holidays appeal to many buyers. Plus, purchasers who look for homes during the holidays are ready to buy.
4. You can restrict the showings in your house to days and times that are most convenient for you. That can help you minimize disruptions, which is especially important this time of year.
5. Rents have skyrocketed in recent years. And, many buyers are looking to escape rising rents and avoid falling into the rental trap for another year. As an article from Zillow says:
"Over the next 12 months, rents are expected to grow more than inflation, the stock market and home values."
Your home could be their ticket to leaving renting behind for good.
Bottom Line
There are still many reasons it makes sense to list your house during the holiday season. Let's connect to determine if selling now is your best move.
The house buying process for Millennials is distinct from that of other generations.
Millennials are now jumping headfirst into homeownership, making up 43% of home buyers (the most of any generation), according to the latest study from the National Association of Realtors®, the 2022 Home Buyer and Seller Generational Trends report.
Millennial home buyers offer an exclusive challenge to property vendors to impress a new group of property stockholders. If you desire to target this profitable fresh market when vending your home, there are key home upgrades that will appeal to millennial home buyers, which include:
Dedicated Home Office
A home office has become a significant source of income for most people, especially freelancers. The trend is more common in the millennial generation; therefore, ensuring that your modern home has an office is essential. When showcasing the property, ensure that you stage a particular room as an office to impress the millennial home buyers. The real estate agent can use the home office as a bargaining chip when likely purchasers view your property.
Pet-Friendly Home Features
One of the essential home upgrades a house vendor should consider having is establishing pet-friendly home features. The millennial generation is more fancied by pets, and most of them will be attracted to your modern home if it has a conducive environment for their pets. For instance, wood flooring such as oak or mahogany is the better choice to ensure easy movement of the pet around the house. Porcelain tile is also preferred since it has a high resistance to scratches or stains and thus is easy to clean. You could also consider installing screens on your windows to prevent high-rise syndrome, which occurs when a pet falls out of a high-rise building and could even result in the loss of the pet.
Smart Home Technology
Any millennial will be awed by the idea of owning a modern home with cost-efficient and smart home technology. Consider eliminating outdated appliances or color schemes as you do home renovation since they will be a crucial turnoff for millennial buyers. Millennials are looking for a home they will access information from anywhere at any time, and even they can remotely monitor their homes. Some innovative home technology that would entice millennial home buyers includes:
A video doorbell is essential so buyers can see and speak to visitors when they approach the doorbell. Also, if you were away and someone rang your bell, it would be possible to get alerts through your phone.
A net thermostat will adjust the home temperature based on the individual's asleep or awake schedule. An individual can set the thermostat to turn off at particular times of the day, and it will soon learn their habits.
An advanced security system that allows you to monitor property using a tech device remotely.
Updated Kitchen and Minibar
Home sellers must make impressive home upgrades when deciding to do home renovation. Any modern home should possess an upgraded kitchen and a minibar, primarily if they target to sell their property to millennial home buyers. The young buyers are looking for side-by-side sinks, premium vanities, and walk-in pantries, among other design amenities. Therefore, look for proficient contractors to design your kitchen and minibar in an eye-catching design, especially for the present generation.
Great Outdoor Space
In your home makeover, ensure that you have a comfortable, fantastic outdoor space—the millennial generation desire to have an outdoor space that feels like an extension of the main house. Consider including a backyard patio or a porch that the millennials will quickly notice once they view your property as you make home upgrades; keep in mind that the buyers want a run-down backyard that can hold parties comfortably. Hire a professional who will ensure your house and the environment is appealing to everyone's eye.
An Eco-Friendly Home
Millennials are more interested in energy-saving upgrades, conserving the environment, reducing costs, and reducing their carbon footprint. For a home makeover, ensure you use high-quality materials and opt for energy-saving features. In particular, millennial home buyers would go for a home with solar panels, tankless water heaters, and property with rainwater tanks. Home upgrades will save a buyer's money and decrease the emission of greenhouse gases into the air. These young homeowners will appreciate an eco-friendly property more in terms of lighting and running of home appliances.
A Sufficient Laundry Area
Having a laundry area on your property is crucial and will reduce individuals' stress when moving the laundry to the washing area. An owner of a modern home should consider having sufficient laundry area space to appeal to a millennial buyer. Everyone desires to live comfortably, and with a laundry room, you can perform numerous tasks with less effort. The laundry room is critical to most people since it is a store for chemical cleaning products that, when mishandled, could threaten adults. Your property will attract numerous clients if you have a sufficient laundry area.
As you plan on home renovation, keep in mind that millennials are looking for fancy, good-looking, and up-to-date properties. Work with a real estate professional to help you with changing the look of your home; it doesn't matter how old-fashioned it was before. Before you decide to put your house on the market, transform it into your target buyer's lifestyle, such as energy-saving devices, innovative home technology, and an updated kitchen.
If you do a home makeover with critical modern updates, you will sell your property within a short while of displaying it. With just a few adjustments to your home, you can attract numerous buyers to your property.
Originally posted here
Shannon Rose of Rose Group in Los Gatos, California, deploys 17 years of Silicon Valley residential real estate sales experience to expand services into San Diego County to help home sellers successfully navigate the #2 fastest-growing real estate market in the nation.
A long-time residential real estate professional and Certified Divorce Real Estate Expert, Shannon Rose of Silicon Valley's Rose Group has roots in San Diego: A former Miss La Mesa, Shannon lived in East County for more than a decade and still visits family several times per year. Watching the San Diego market for some time, when Proposition 19 went into effect, she noticed a sudden uptick in buyer interest—and inquiries from people she knows—and realized her expertise would provide incredible value to sellers in Southern California's exploding real estate market.
Shannon has already closed her first San Diego sale: an immaculate solar home in El Cajon. She and her client immediately received 13 offers, including an over-asking offer that was accepted on the home's third day on the market.
Shannon's best advice for her San Diego sellers: "Don't wait for the market to keep going up just so you can grab an extra $10-20K. The market is up now, but you never know when it will turn the other way," she says. "And if you're nervous about selling because you don't know where you're going to live next, don't worry! We have programs that will ease your concerns."
Building a successful career while navigating Silicon Valley's tumultuous market history, Shannon knows what to expect from a fast-growing market. Her career began in 2004, just as the US housing bubble was reaching its peak—and she watched the bubble burst from the front lines just three years later. Those back-to-back market extremes gave her a deep understanding of how to navigate dramatic changes in the residential real estate market.
One of the keys to being successful in a competitive market is knowing which tasks need to be done early in order to attract strong offers. "Getting inspections done and writing disclosures in advance will reduce the need for further negotiating after a seller is in contract with a buyer," says Shannon. "We still want the buyer to have their full rights to investigations, but it certainly can ease their minds knowing that we already have reports from certified inspectors who were hired to thoroughly evaluate the property before we even put it on the market."
Shannon recommends that buyers leverage Proposition 19 to port their tax basis to a new San Diego home, now that it's possible for California homeowners to move anywhere in the state at—or near—their current tax rate.
"San Diego has always been a beautiful, sunny, great weather, tons-of-things-to-do kind of place," says Shannon. "And it's a lot less expensive than places like Orange County, Silicon Valley, and the greater Bay Area. It's a great place to retreat to or live full-time. It's still affordable and has great lifestyle benefits."
Her advice for buyer success is to pay attention to contingencies: the key is to reduce the number of ways a transaction can be canceled. Buyers have to be ready to compete on multiple fronts, including proving the ability to pay back a mortgage. "Interview lenders and get a pre-approval underwritten before writing any offers," she says. "This way you can write a strong loan contingency. Sellers love short loan contingencies, and proving that a buyer can make good on their offer will go a long way.
"And buyers should review property disclosures before writing an offer," she adds. "Knowing the little details of a home—and understanding what may need to be fixed—helps buyers write informed offers, and can prevent new contingencies from springing up after the inspection."
To learn more or to enlist Rose Group to help you sell your San Diego County home, visit RoseGroupRE.com.
Shannon Rose
REALTOR®, CDRE, CLHMS, SRES, CDPE
DRE# 01422955
About Rose Group/KW Bay Area Estates:
Rose Group, with KW Bay Area Estates, is a trusted real estate team focused on providing a smooth transactional experience to home buyers and sellers throughout the Bay Area and across the U.S. Comprised of exceptional agents and a dynamic support staff, Rose Group is equipped to manage all transaction types including residential sales, divorce real estate, investment property analysis, professional marketing, 1031 Exchanges, pre-foreclosure counseling, and short sales. For more information, visit Rose Group online at RoseGroupRE.com. DRE# 01526679.
As remote work continues on for many businesses and Americans weigh the risks of being in densely populated areas, will more people start to move out of bigger cities? Spending extra time at home and dreaming of more indoor and outdoor space is certainly sparking some interest among homebuyers. Early data shows an initial trend in this direction of moving from urban to suburban communities, but the question is: will the trend continue?