When most of us begin searching for a home, we naturally start by looking at the price. It's important, however, to closely consider what else impacts the purchase. It's not just the price of the house that matters, but the overall cost in the long run. Today, that's largely impacted by low mortgage rates. Low rates are actually making homes more affordable now than at any time since 2016, and here's why.
Today's low rates are off-setting rising home prices because it's less expensive to borrow money. In essence, purchasing a home while mortgage rates are this low may save you significantly over the life of your home loan.
Taking a look at the graph below with data sourced from the National Association of Realtors (NAR), the higher the bars rise, the more affordable homes are. The orange bars represent the period of time when homes were most affordable, but that's also reflective of when the housing bubble burst. At that time, distressed properties, like foreclosures and short sales, dominated the market. That's a drastically different environment than what we have in the housing market now.
The green bar represents today's market. It shows that homes truly are more affordable than they have been in years, and much more so than they were in the normal market that led up to the housing crash. Low mortgage rates are a big differentiator driving this affordability.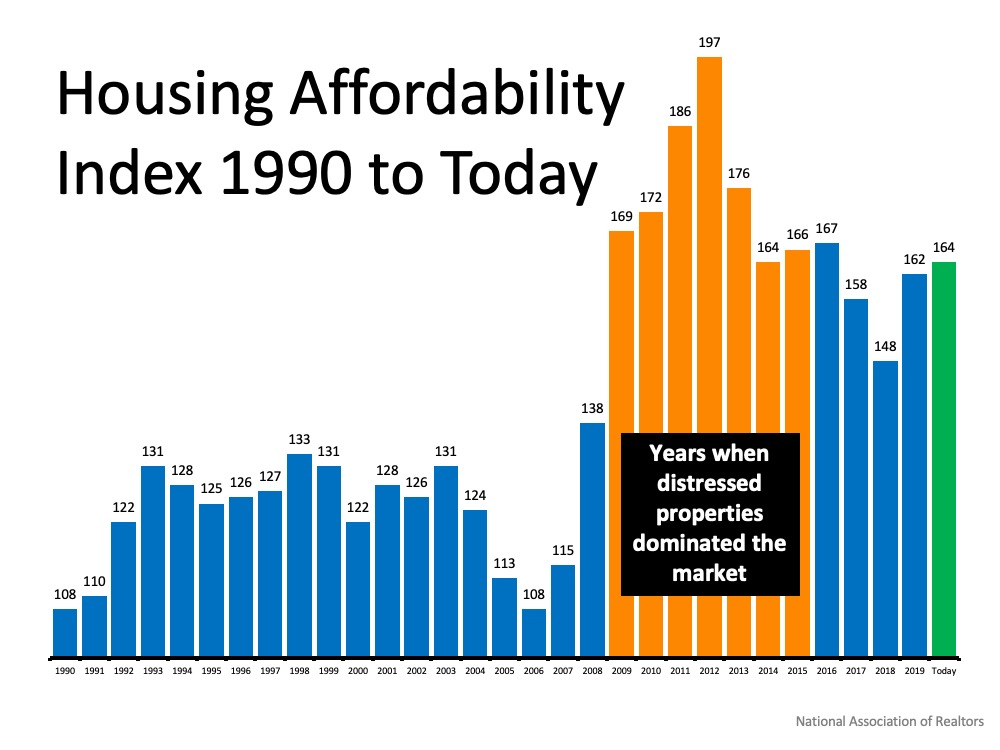 What are the experts saying about affordability?
Experts agree that this unique moment in time is making homes incredibly affordable for buyers.
Lawrence Yun, Chief Economist, NAR:
"Although housing prices have consistently moved higher, when the favorable mortgage rates are factored in, an overall home purchase was more affordable in 2020's second quarter compared to one year ago."
Bill Banfield, EVP of Capital Markets, Quicken Loans:
"No matter what you're looking for, this is a great time to buy since the current low interest rates can stretch your spending power."
"Those shopping for a home can afford 10 percent more home than they could have one year ago while keeping their monthly payment unchanged. This translates into nearly $32,000 more buying power." 
"Homeowners are the clear winners. Low mortgage rates mean the cost of owning is at historically low levels and who gains all the benefits of strong house price appreciation? Homeowners."
Bottom Line
When purchasing a home, it's important to think about the overall cost, not just the price of the house. Homes on your wish list may be more affordable today than you think. Let's connect to discuss how affordability plays a role in our local market, and your long-term homeownership goals.
As remote work continues on for many businesses and Americans weigh the risks of being in densely populated areas, will more people start to move out of bigger cities? Spending extra time at home and dreaming of more indoor and outdoor space is certainly sparking some interest among homebuyers. Early data shows an initial trend in this direction of moving from urban to suburban communities, but the question is: will the trend continue?
The residential real estate market is remaining resilient as the country still struggles to beat the COVID-19 pandemic. Three separate reports recently revealed how the housing market is still showing growth. Here's a look at each one.
With a worldwide health crisis that drove a pause in the economy this year, the housing market was greatly impacted. Many have been eagerly awaiting some bright signs of a recovery. Based on the latest Existing Home Sales Report from the National Association of Realtors (NAR), June hit a much-anticipated record-setting rebound to ignite that spark.
According to NAR, home sales jumped 20.7% from May to a seasonally-adjusted annual rate of 4.72 million in June:
"Existing-home sales rebounded at a record pace in June, showing strong signs of a market turnaround after three straight months of sales declines caused by the ongoing pandemic…Each of the four major regions achieved month-over-month growth."
Home Sales Hit a Record-Setting Rebound | MyKCMThis significant rebound is a major boost for the housing market and the U.S. economy. According to Lawrence Yun, Chief Economist for NAR, the momentum has the potential to continue on, too:
"The sales recovery is strong, as buyers were eager to purchase homes and properties that they had been eyeing during the shutdown…This revitalization looks to be sustainable for many months ahead as long as mortgage rates remain low and job gains continue."
With mortgage rates hitting an all-time low, dropping below 3% for the first time last week, potential homebuyers are poised to continue taking advantage of this historic opportunity to buy. This fierce competition among buyers is contributing to home price increases as well, as more buyers are finding themselves in bidding wars in this environment. The report also notes:
"The median existing-home price for all housing types in June was $295,300, up 3.5% from June 2019 ($285,400), as prices rose in every region. June's national price increase marks 100 straight months of year-over-year gains."
The graph below shows home price increases by region, powered by low interest rates, pent-up demand, and a decline in inventory on the market:Home Sales Hit a Record-Setting Rebound | MyKCMYun also indicates:
"Home prices rose during the lockdown and could rise even further due to heavy buyer competition and a significant shortage of supply."
Bottom Line
Buyers returning to the market is a great sign for the economy, as housing is still leading the way toward a recovery. If you're ready to buy a home this year, let's connect to make sure you have the best possible guide with you each step of the way.
Over the past several weeks, Freddie Mac has reported the average 30-year fixed mortgage rate dropping to record lows, all the way down to 3.03%. Last week's reported rate reached the lowest point in the history of the survey, which dates back to 1971 (See graph below):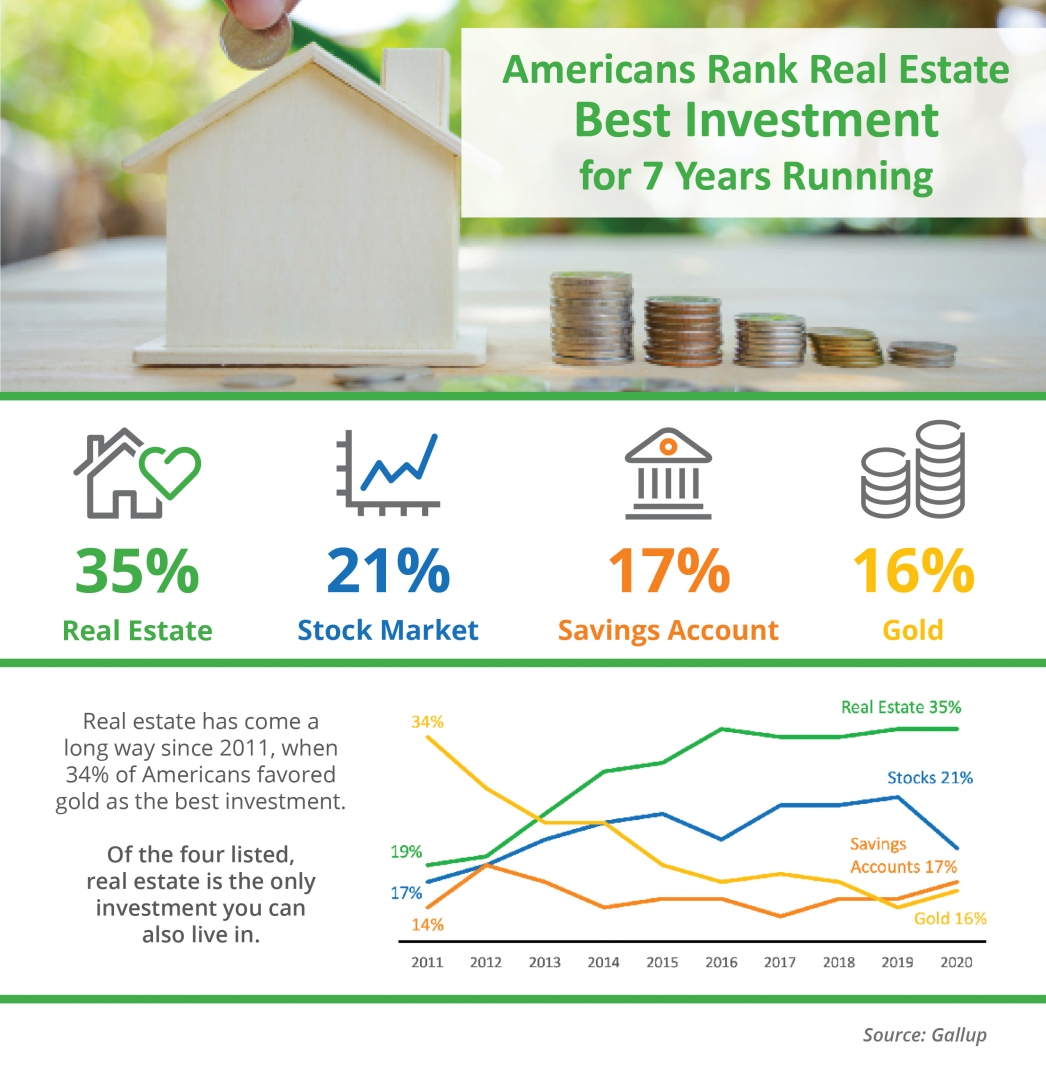 Homes priced in the top 25% of a price range for a particular area of the country are considered "premium homes." At the start of last year, many of the more expensive homes listed for sale hadn't seen as much interest, since much of the demand for housing over the past few years has come from first-time buyers looking for starter homes. It looks like buyer activity, however, is starting to show a shift in this segment.
According to the January Luxury Report from the Institute for Luxury Home Marketing (ILHM):
"In a snapshot of 2019, despite pessimism at the start of the year, the last quarter showcased a strengthening, with an upswing in the luxury market for sales in both the single family and condo markets."
Momentum is growing, and those looking to enter the luxury market are poised for success in 2020 as well. With more inventory available at the upper-end, historically low interest rates, and increasing average wages, the stage is set for buyers with an interest in this tier to embrace the perfect move-up opportunity.
The report highlights the increase in buyer activity in this segment, resulting in growing sales toward the end of 2019:
"According to reports from many luxury real estate professionals, the significant increase in number of properties bought at the end of 2019 versus 2018 is reflective of an early 2019 holding pattern.

Many of early 2019's prospective luxury buyers held off while waiting to see how prices would react to new tax regulations and other policy changes. Buyer confidence returned in late spring and compared to 2018, above average sales were reported in the final quarter of 2019."
With evidence of strong buyer confidence, this is great news, as more homeowners are building equity and growing their net worth throughout the country:
"Many homeowners are now diversifying their wealth, owning several properties rather than a single mega mansion. In addition, there have been an increase number of home purchases taking place in smaller cities, reflecting the rising number of people relocating from major metropolises. Their property equity wealth or ability to pay high rental costs have afforded them the opportunity to purchase luxury properties in…secondary cities throughout North America."
With a strong economy and a backdrop set for moving up this year, it's a great time to explore the luxury market. Keep in mind, luxury can mean different things to different people, too. To one person, luxury is a secluded home with plenty of property and privacy. To another, it is a penthouse at the center of a bustling city. Knowing what characteristics mean luxury to you will help your agent understand what you're after as you define the scope and location for the home of your dreams.
Bottom Line
If you're thinking about upgrading your current house to a luxury home, or adding an additional property to your portfolio, let's get together to determine if you're ready to make your move.