Selling your house is no simple task. While some homeowners opt to sell their homes on their own, known as a FSBO (For Sale by Owner), they often encounter various challenges without the guidance of a real estate agent. If you're currently considering selling your house on your own, here's what you should know.
The most recent Profile of Home Buyers and Sellers from the National Association of Realtors (NAR) surveyed homeowners who'd recently sold their own homes and asked what difficulties they faced. Those sellers say some of the greatest challenges were prepping their home for sale, pricing it right, and properly managing the required paperwork, just to name a few.
When it comes to selling your most valuable asset, consider the invaluable support that a real estate agent can provide. By partnering with an agent, you can navigate the complexities of the selling process with confidence. Here are just a few of the many ways an agent is essential to your home sale:
1. Marketing and Exposure
Effective marketing is a key piece of attracting qualified buyers to your property. Real estate agents have access to various marketing tools and platforms, including MLS listings, professional photography, virtual tours, and extensive professional networks. They can create a compelling listing that highlights your home's best features and reaches a wider audience.
If you sell on your own, you may struggle to match the reach of agents, resulting in limited exposure and, ultimately, fewer potential buyers.
2. Managing Liability and Legal Considerations
Today, more disclosures and regulations are mandatory when selling a house. And all that paperwork and all the legal aspects of selling a home can be a lot to manage. Selling a house without professional guidance exposes homeowners to potential liability risks and legal complications.
Real estate agents are well-versed in the contracts, disclosures, and regulations necessary during a sale. Their expertise helps minimize the risk of errors or omissions that could lead to legal disputes or delays.
3. Negotiations and Contracts
Negotiating the terms of a home sale can be challenging, especially when emotions are involved. You may find it overwhelming to navigate these negotiations alone. Without an agent, you assume this responsibility on your own. This means you'll have full accountability for working and negotiating with:
The buyer, who wants the best deal possible.
The buyer's agent, who will use their expertise to advocate for the buyer.
The home inspection company, who works for the buyer.
The home appraiser, who assesses the property's value to protect the lender.
Rather than going toe-to-toe with all these parties alone, lean on an expert. Real estate agents act as intermediaries, skillfully negotiating on your behalf and ensuring that your best interests are protected. They have experience in handling tough negotiations, counteroffers, and contingencies. When you sell your house yourself, you'll need to be prepared to manage these vendors on your own.
4. Pricing and Housing Market Knowledge
Determining the right asking price for your property is crucial. It requires in-depth knowledge of the local real estate market, including recent sales data, neighborhood trends, and the current demand for properties. Real estate agents have access to comprehensive market data and the expertise to analyze it accurately.
When you sell your house on your own without this comprehensive information, you risk overpricing or underpricing your home. This can result in an extended time on the market and also the risk of leaving money on the table - which decreases your future buying power. An agent is a key piece of the pricing puzzle.
Bottom Line
While selling a home on your own might seem appealing at first, the challenges that come with it can quickly become overwhelming. The expertise that a real estate agent brings to the table is vital for a successful sale. Instead of tackling it alone, let's connect to make sure you have an expert on your side.
If you're trying to decide if now's the time to sell your house, here's what you should know. The limited number of homes available right now gives you a big advantage. That's because there are more buyers out there than there are homes for sale. And, with so few homes on the market, buyers will have fewer options, so you set yourself up to get the most eyes possible on your house.
Here's what industry experts are saying about why selling now has its benefits:
Lawrence Yun, Chief Economist at the National Association of Realtors (NAR):
"Inventory levels are still at historic lows. Consequently, multiple offers are returning on a good number of properties."
Selma Hepp, Chief Economist at CoreLogic:
"We have not seen the traditional uptick in new listings from existing homeowners, so undersupply of housing will continue to heighten market competition and put pressure on prices in most regions. Some markets are already heating up considerably, but price premiums that we saw last spring and summer are unlikely."
Clare Trapasso, Executive News Editor at Realtor.com:
"Well-priced, move-in ready homes with curb appeal in desirable areas are still receiving multiple offers and selling for over the asking price in many parts of the country . . ."
Jeff Tucker, Senior Economist at Zillow:
". . . sellers who price and market their home competitively shouldn't have a problem finding a buyer."
Bottom Line
If you're thinking about selling your house, let's connect so you have the expert insights you need to make the best possible move today.
In the United States, there are over 72 million millennials. If you're part of that generation and have thought about buying a home, you aren't alone. According to Zonda, 98% of millennials want to become a homeowner at some point if they aren't already. But why? There are plenty of reasons you may choose to become a homeowner. Here's why other millennials have made that decision (see graph below):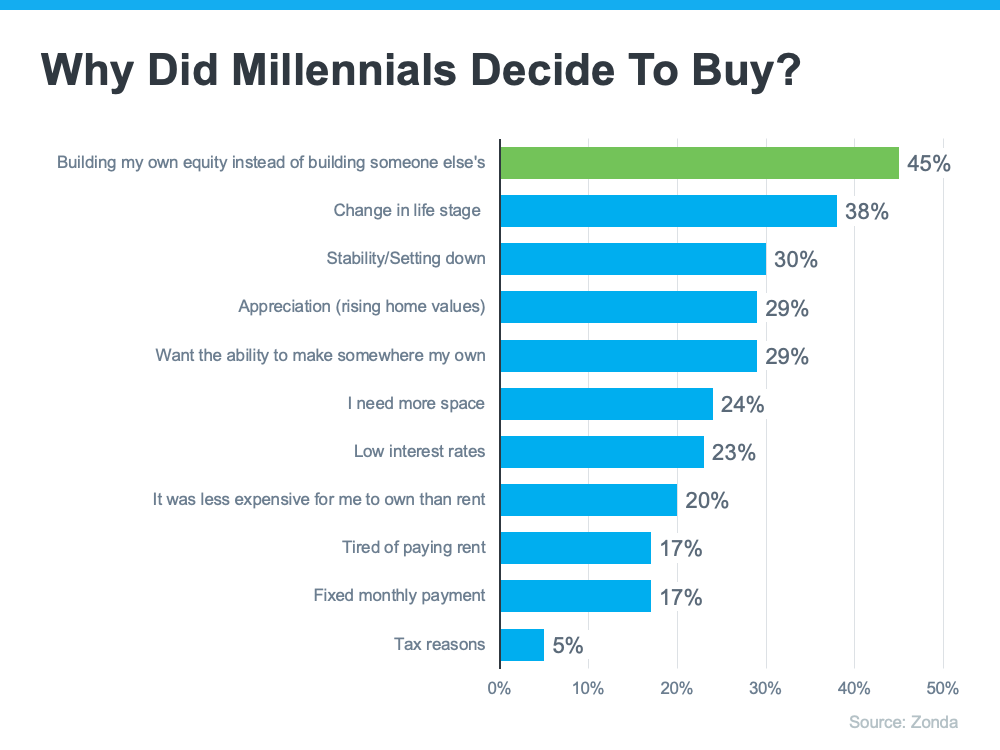 This graph shows why millennials are buying homes according to Zonda's 6th annual millennial survey. The top reasons include building equity, a change in life stage, wanting stability, rising home values, and wanting to make somewhere truly their own. Here's a look at each in more detail.
Building equity – Homeownership is a long-term investment that allows you to build wealth, increase your net worth, and become more financially stable. Beyond that, the alternative to owning a home is typically renting. With the way rents have risen so dramatically over time, it may make sense to build your own equity instead of the equity of the person you're renting from.
A change in life stage – As a millennial, you're reaching your prime homebuying years. That means you may be at the point where you need more space or a different location.
Stability or settling down – This could mean establishing your career or just generally deciding more concretely what you want your life to look and feel like. As that idea becomes clearer, you may want to establish that lifestyle in a particular place and put down roots.
Rising home values – By purchasing a home, you own an asset that traditionally increases in value over time. That can mean your home will have a higher resale value if you decide to move again.
Wanting to make somewhere "mine" – Owning a home gives a sense of freedom because you can customize it however you want, make updates as you see fit, and be yourself in a place that's solely your own.
Bottom Line
There are plenty of great reasons why millennials are buying homes today. If you've thought about becoming a homeowner and any of these reasons resonate with you too, let's connect to explore your options.
Spring has arrived, and that means more and more people are getting their homes ready to sell. But with recent shifts in real estate, this year's spring housing market will be different from the frenzy of the past several years. To sell your house quickly, without hassles, and for the most money, be sure to follow these four simple tips:
1. Make Sure You Give Buyers Access
One of the biggest mistakes you can make as a seller is limiting the days and times when buyers have access to view your home. In any market, if you want to maximize the sale of your house, you can't limit potential buyers' access to view it. If it's not accessible, it could cost you by sitting on the market longer and ultimately selling for a lower price.
2. Make Your Home Look as Good as Possible on the Inside
For anything to sell, especially your home, it must look inviting. Your real estate agent can give you expert advice on ideal staging for your home. Even updating a room with fresh paint, steam cleaning carpets, or removing clutter from the garage can make a big impact.
3. First Impressions Matter
The old saying "you never get a second chance to make a first impression" matters when selling your house. Often, the first impression a buyer gets is what they see as they walk up to the front door. Putting in the work in on the exterior of your home is just as important as what you stage inside. Freshen up your landscaping to improve your home's curb appeal so you can make an impact with potential buyers.
4. Price It Right
This is probably the most important aspect of selling your home in today's real estate market. If a house is priced competitively, it's going to sell. Period. To do this, you have to know what's happening with home prices in your area and understand the factors that are affecting the market right now. That's why it's best to work with a trusted real estate professional who can ensure you list your house at the right price.
Bottom Line
Everyone selling their home wants three things: to sell it for the most money they can, to do it in a certain amount of time, and to do all of that with the fewest hassles. To accomplish these goals, let's connect so you can understand the steps you need to take to sell your home this spring.
Each year, homeowners planning to make a move are faced with a decision: sell their house during the holidays or wait. And others who have already listed their homes may think about removing their listings and waiting until the new year to go back on the market.
The truth is many buyers want to purchase a home for the holidays, and your house might be just what they're looking for. Here are five great reasons you shouldn't wait to sell your house.
1. While the supply of homes for sale has increased this year, there still aren't enough homes on the market to keep up with buyer demand. As Nadia Evangelou, Senior Economist & Director of Forecasting at the National Association of Realtors (NAR), explains:
"There's still this gap between demand and supply because we were underbuilding for many years. . . . So now we see demand is slowing, but it still outpaces supply."
2. Serious homebuyers are out looking right now. Millennials are driving homebuying demand today, and many are eager to make a purchase. Mark Fleming, Chief Economist at First American, explains:
"While not the frenzy of 2021, the largest living generation, the Millennials, will continue to age into their prime home-buying years, creating a demographic tailwind for the housing market."
3. The desire to own a home doesn't stop during the holidays. In fact, homes decorated for the holidays appeal to many buyers. Plus, purchasers who look for homes during the holidays are ready to buy.
4. You can restrict the showings in your house to days and times that are most convenient for you. That can help you minimize disruptions, which is especially important this time of year.
5. Rents have skyrocketed in recent years. And, many buyers are looking to escape rising rents and avoid falling into the rental trap for another year. As an article from Zillow says:
"Over the next 12 months, rents are expected to grow more than inflation, the stock market and home values."
Your home could be their ticket to leaving renting behind for good.
Bottom Line
There are still many reasons it makes sense to list your house during the holiday season. Let's connect to determine if selling now is your best move.
Today's housing market is a dynamic and ever-changing landscape. With mortgage rates on the rise, it can be difficult to navigate the market and find the right home for you. However, with a few simple tips, you can weather this rate environment and still achieve your homeownership goals.
Here are 3 things to consider:
1. Expand your search area and criteria.
By looking at a wider range of homes, you'll have a better chance of finding the right one for you. Additionally, be flexible on your must-haves and be willing to compromise on things like square footage or number of bedrooms.
2. Be aware of rising mortgage rates and how they will impact your monthly payments.
Rates have been historically low for the past two years, but that is changing. Make sure you get pre-approved for a mortgage before shopping for homes so you know how much you can afford. Homes may seem like they have become unaffordable, but with the right research and the right team on your side, you can still find the home of your dreams. Work with a loan officer to find the right loan product for your needs and budget.
3. Explore alternative financing options.
There are a number of programs available that can help buyers with down payments, closing costs, and more. Look for grants, gift funds, and down payment assistance. There are even some programs and special benefits for individuals working in certain professions or with unique statuses, including teachers, doctors and nurses, and veterans. Speak with a loan officer to learn more about these options.
If you've been searching for a home and have found yourself stepping out of the process because you're worried about rising costs, let's connect. Having a team of local advisors on your side may be just what you need to guide your search in a new and more affordable direction. 
Educate yourself about the current pet-friendly market and where your home would fit in.
The real estate industry is an ever-changing one, and it doesn't stop for anyone. The market today is more competitive than ever, and you need to market your home in a way that will get it noticed and sell quickly. How do you do that?
Pet-friendly Home Amenities that Buyers Want
Eighty-one percent of Americans claim that their next living situation largely depends on whether the home is pet-friendly or not. For this reason, you must market your home as a pet-friendly living space. Some of the pet-friendly amenities you should make sure are available include:
1. Indoor Playground
People love to play with their dogs and will enjoy having an area in their home to do just that. You can create this by adding in some exercise equipment, a pool, or other fun things for the pet to enjoy. It's also great to add an indoor version of a dog run where they can race around and socialize safely, especially during winter when it's too cold or wet outside.
2. Pet-Door
Did you know that 91% of pet owners consider a pet door the most important factor in their home? Dogs and cats need room to go outside and explore, so you must build a pet door to allow them to do so.
3. Pet-Walk
If you are looking for a safer alternative to installing a pet door, you may want to consider adding in a pet walk instead. It can get installed in the same way as an umbrella on a patio door. It allows the pet to walk out of the house instead of climbing up and down, lessening the risk of injury or a veterinary visit.
4. Pet-Garden
To incorporate the pet's instinct to hunt and roam, add a small fenced garden outside where they can roam freely. This garden is a great option if the home buyer's pets do not do very well with a doggy door but are otherwise friendly and like spending time outside.
5. Pet Feeding Space
To ensure the house is pet-friendly, consider adding a feeding space. It includes adding in a place to feed the pet as well as a place to remove the waste. It can get done by installing a countertop or low table and adding a food bowl and water dish.
6. Pet Bed
A pet bed is another excellent feature to add when making a home renovation to make the place more pet-friendly. It gives the pet another area to relax in and makes the space feel more like their own.
What to Avoid When Having Pets at Home
There are a few things that you should avoid when trying to make your home pet-friendly for your buyers:
1. Indoor Plants
Some indoor plants are poisonous to pets, which can be a major potential problem if it is a part of the home. A few examples of such plants include:
-Spider plant
-Philodendron
-Shrubs
-Pencil plant
-Ivy
2. Indoor Mold
Molds contain chemicals that can be harmful to animals, and this can lead to several health problems, including death. To avoid this, clean the home's carpet regularly to lower the potential for mold growth.
3. Sharp Objects
You must cover sharp surfaces with plastic to protect the pet from injury. You can also completely remove these surfaces when making home updates to avoid any accidents.
4. Uncovered Vents
As a home seller, you should ensure a covering protects all the vents so the pet can't get in or knock themselves over and get injured.
5. Unsafe Electrical Outlets
Another thing to cover is the electrical outlets. Little paws can knock these over easily, causing a fire hazard. You should also ensure guardrails on the outlets to prevent accidental contact.
Staging Tips that Appeal to Home Buyers Who are Pet Owners
You don't have to have a pet-friendly home to appeal to your home buyers. You just need a little bit of knowledge on how you can use these ideas to make your home sell faster. The first thing you need to do is capitalize on the popularity of the pets. You can do this by making the house feel more "dog-friendly" than you would by adding doggy toys, dog runs, and outdoor areas for playing with the pet. It would also help if you tried to use the home design to your advantage. For instance, you could say that the living room is large enough for a dog bed.
Since millennials are more likely to have a pet than any other generation, you should consider making the home more modern. Part of making a home appeal to millennials is to have open spaces.
Features of Pet-Friendly Homes to Include in your Listings
When making a listing of your home, use some of these features to make it a more pet-friendly space:
1. Enclosed Porch
A home buyer with a pet will want an enclosed porch where the pet can relax without necessarily getting themselves dirty.
2. Pet Steps
A pet owner will want to ensure that the steps are large enough for the pet to walk up and down.
3. Fenced Backyard
A fenced backyard is a popular way to ensure that the pets are safe. It will also allow the pet to roam freely outside without being on a leash.
4. Low Beams
Low beams are important for larger pets. Catteries are common in homes with larger animals; a low beam can help facilitate this without the animal bumping into it or knocking it over.
It does not matter how outdated your house previously was if you hire an expert in real estate to assist you in updating the appearance and features of your property.
These insurance policies provide diverse and equal protection for your real estate investments.
Title insurance is a type of liability insurance most commonly found in the United States and Canada. It protects against economic damage caused by a defect in title to your real estate and the invalidism or nonbinding of mortgage loans. As a homeowner, title insurance protects your property ownership. On the other hand, home insurance is a type of property insurance that protects you from financial loss due to natural disasters, theft, or different types of covered disasters. Most home loan lenders will require proof of home insurance that covers the total value or fair price of the home before financing anything.
How Much Coverage Does Title Insurance Policy Offer
Title insurance has three policies: owner's policy, lender's policy, and construction loan policy. They all cover different liabilities for the various participants in a real estate transaction. It is sometimes called a loan policy because it is only issued to home loan lenders.
An owner's policy covers:
Another party's ownership, such as a home buyer
Document forgery and fraud, as well as incorrect signatures
Records with flaws
Unrecorded easements
Property encumbrances or judgments
A lender's policy works to protect the lender from possible losses if the seller cannot legally transfer title rights. The lender is protected up to the amount of the loan.
Many states have separate policies for construction loans. Acquiring title insurance for construction loans involves a "Date Down" endorsement, which acknowledges that the property's insurance cover has increased due to construction funds invested in the real estate.
How Much Coverage Does Home Insurance Policy Cover
There are several types of homeowners' insurance in the United States that have become industry standards. They are designated HO-1 through HO-8 and offer varying levels of protection depending on the homeowner's needs and the type of property receiving the cover. There are three types of coverage; actual cash value, replacement cost, and extended placement cost. The policy covers four kinds of incidents: interior damage, exterior costs, damage to personal belongings, and injuries experienced while on the property.
It covers the costs of damages due to any unfortunate event. Home insurance can be claimed for damage due to the following causes:
Natural calamities such as windstorms, hails, fire, or lightning
Man-made problems like riots, theft, vandalism, or property destruction due to any civil commotion
Damage due to rail or road construction
Collision of airplanes or any vehicle (not your own)
Explosion or smoke
Cost of the Insurance Policy
When purchasing title insurance, a closing agent initiates the process upon completion of the home purchase agreement. It is a one-time fee that covers two components: a premium charge and service fees. The premium is paid once at the end of the sale. The cost of an owner's policy is based on the purchase price of the home, while that of the lender is based on the loan amount. The premium on an owner's policy ranges between $500 and $3,500, depending on your state and insurer.
Several factors influence the cost of a homeowner's policy, such as your state; the age and method of construction of your home; the average distance from the nearest fire station; your credit score; the insurance provider, etc. In the US, the average cost is $1,312 to $250,000 per year. However, the amount of premiums that you have to pay might be higher or lower than the listed average costs due to the variables mentioned above.
Advantages of Having a Home Insurance Policy
A homeowner policy helps you cover the financial cost of repairing damage to your home. Other benefits include the following:
You may be eligible for financial assistance for repair and damage control due to unfortunate events.
If a third party causes the damage, you can file an insurance claim without getting into a legal dispute.
If there is property insurance, it is easier to obtain a mortgage for renovation
The costs of lost household goods and content can also be covered.
Coverage is available not only for damages caused by accidents or natural disasters but also for theft, robbery, or burglary.
Advantages of Having a Title Insurance Policy
Owner's title insurance is optional, but the lender's title insurance is required. If a claim arises after purchase, an owner's policy can protect you from losing your equity and your right to live in the residence. Even if you purchase a new home, defects may exist due to previous owners and the building contractor failing to pay all of its contract workers.
Title insurance protects the homeowner for the duration of their property ownership. If unpaid property taxes, outstanding liens, or fines for code violations appear after the property has been purchased, the uninsured homeowner will bear the entire financial burden. However, if you cannot cover these unexpected costs, you may be held liable for far more than you bargained for.
Do You Need Them Both
Now comes the million-dollar question. For liability reasons, the answer is yes. These insurance policies protect you differently and equally for investments made in your real estate. A title policy will only require one premium and offer a cover protecting your property ownership. A home insurance policy has annual premiums and protects you from damages such as theft, vandalism, and natural calamities.
Conclusion
Before you settle on an insurance policy from the service provider, do your due diligence and get quotes from different companies. At first, it might sound like a lot of expenses go into insuring yourself, but later on, you'll be glad you did it. Protecting yourself and your investments from future unforeseeable and expensive costs relies on having insurance cover. Getting both a title and home insurance cover is a smart way of covering both your flanks. Contact us so we can help you narrow down your choices.
Home improvement can be a costly endeavor, but it gives a huge return at resale.
If you're buying a home or already living in one, you must choose home renovation projects that will have the most significant impact on your home's value. To maximize what you've invested in your family, it's worth considering spending money and time on these five home renovation projects:
1. Landscaping
There's nothing like the feel of grass between your toes on a warm summer night. If you're considering putting in a garden in your backyard or even just installing a fresh coat of grass, consider putting down sod.
Add a back deck or front porch to your home by taking advantage of the three-season benefits of a patio. Put these two together, and you have the potential to increase your home's value by 50% or more. It is an excellent investment for rental properties or once you've moved out and are ready to sell. Place a fire pit or sit down with a chessboard and enjoy watching the sunset together!
Also, garden and lighting projects make for a good housewarming gift for new neighbors to your home. Allow them to enjoy the benefits of a healthy, beautiful garden in their backyards, and you'll be adding value as well.
Improve curb appeal. Planting a couple of trees can add to the value of your home by up to 50%. If you're renovating an older home, adding some unique and interesting landscaping could be the key to a higher sale price.
2. Kitchen
Be sure to upgrade your kitchen sink. Replacing the faucet and vanity with new countertop and backsplash options can make a difference. Add in some unique countertops, such as marble or soapstone, and watch the value increase.
Add or extend the kitchen island for added storage and counter space. Add a mini-oven, microwave, or even an induction cooktop if you're looking to ramp up your kitchen's functionality.
Also, add drawers and cabinets under the kitchen sink to increase storage. If you are considering a home remodel in the future, you might want to take advantage of the potential for a walk-in pantry that offers an array of additional storage space. Such a pantry gives an added sense of value, as it allows buyers to see the potential for a room that has been thoroughly designed and planned.
3. Installing smart home technology
Innovative home technology may include an outdoor and indoor security system that helps you control your home from anywhere in the world. In addition to monitoring your home's security, these systems can teach you how to use electronics with software applications and device specifications.
Hands-free faucets and lighting control are great examples of home automation, and they work on the same principles as a programmable thermostat. The faucet and lighting control equipment sensors can be triggered to turn on or off using a phone, tablet, or PC to request certain temperatures and lighting settings.
Smart home appliances such as programmable thermostats allow you to change the temperature settings in your home while allowing energy efficiency experts to program temperature settings based on what they assume is ideal for the average homeowner.
4. Basement
The basement can serve as an entertainment area or a kids' playroom. Renovate or add-on to make it extra functional and attractive. A home theater system that includes a high-tech projector, surround sound, and other high-tech components will improve the value of your home.
The basement can also be used as the family's playroom, in which a few new pieces of furniture such as a table and sofa chairs will give it an instant facelift and make it look like a room with purpose. You can install a home gym in the basement, add a bar, or even a space for your wine collection. It adds a sense of sophistication and class to the room.
Level up your home theater experience with audio equipment and a surround sound system professionally installed by a home theater installer. Such equipment can also enhance streaming content on your TV, such as Netflix in the basement.
5. Bathroom
The bathroom is the perfect place to add some of the latest and most popular home gadgets. Since this is a room used by everyone in your family, you can make it more functional with a few smart home advancements.
A smart mirror can display information from your computer or an online service like YouTube in real-time. A digital scale that interacts with an app on your phone could let you know when there's something wrong, such as when you've gained weight or if something is going on with your blood pressure.
A bathtub with a built-in heater can give your family more comfort while taking a relaxing bath or warm shower. The lights can be set up to turn on automatically when the room is in use. The tub can be set up on a lift system to make it easy to install and remove when needed.
Improve the tiling and flooring in the bathroom. Replace old tile with new styles, giving it a more sophisticated look. A countertop option for the shower or tub can provide a classy appearance, such as Italian marble, when added to an otherwise plain white bathroom.
Other home remodeling projects to boost home value:
If your home doesn't have room to park your car, you can add a garage to the house. A garage is useful for storing things your household needs, such as the washing machine or bikes. You can also add storage space for your outdoor garden rake and pallets for outdoor storage.
A designated laundry area allows you to have the functionality of an indoor washing machine and dryer and install a wall with shelves to keep your detergents and other cleaning supplies. A laundry area is a perfect space for folding clothes too.
If you are thinking of selling your house in the future, home remodeling can be a great way to make it more valuable. Think about the home upgrades you want to do and choose the ones that will have the most impact during resale while keeping in mind your overall budget. Need professional help? Get in touch.
The type of home mortgage loan you choose can significantly impact the cost of your loan and the interest rate you pay.
Many factors influence which type of mortgage is best for you, such as your current financial situation, expected borrowing expenses, and qualifications. However, it's also important to consider your plans as well. Some types might be more suitable for a homeowner who wants to move into a new home soon or purchase another one after a few years. In short: many different combinations will suit other purposes, but it is important to understand all of them before making an informed decision.
1. Conventional Mortgages
The Conventional mortgage loan has been the most commonly chosen type of mortgage option in the past few years and is one of the most popular loans.
One major benefit of this type of loan is using different collateral. For example, as a homeowner, you have more opportunities to access a conventional mortgage than someone who isn't a homeowner.
The downside to this type is stricter qualifying requirements, such as having more borrower equity up-front or needing more income. Since this type also typically features higher rates and costs, it might not be your best choice if you're looking for affordability.
2. Conforming Mortgage Loans
Another type of loan that is quite popular is the Conforming Mortgage Loan. These mortgages have the same requirements as a conventional mortgage with added benefits such as lower interest rates and more flexible terms that can help you make choices about your plans.
One downside to this type of loan is that, in some instances, it might not be able to help you qualify for a particular loan amount and can only be used for homes valued at around $417,000 or less. Aside from this, conforming loans typically have lower down payments and higher interest rates.
3. Nonconforming Mortgage Loans
The other type of mortgage loan is the Nonconforming Mortgage Loan. These loans are similar to conforming but offer more flexibility and more substantial options. Some examples include allowing you to have less down payment relative to the property's value or allowing you to have a lower credit score.
However, these opportunities come with an added cost, and additional closing costs and fees can add up quickly. In addition, non-conforming loans also typically come with higher interest rates, so it's worth researching before deciding whether this is the best option for your current financial situation.
4. Government-Insured Federal Housing Administration (FHA) Loans
The federal housing administration (FHA) is a program through the United States Department of Housing and Urban Development that insures mortgages. With this type of mortgage loan, you'll have to pay a small upfront mortgage insurance premium but can benefit from lower closing costs and less stringent credit requirements.
Even if you have a low-down payment, these loans are available for people with a wide range of credit scores. So, if you're interested in affordability, these loans could be the answer to your home-buying woes. They also provide an additional life insurance policy allowing you to cancel your monthly payments without worrying about losing anything out of pocket.
5. Government-Insured Veterans Affairs (VA) Loans
The Veterans Affairs (VA) program is a United States federal agency that offers mortgages to service members, veterans, and certain people related to them. The primary benefit of this mortgage loan is that you could have no down payment and lower interest rates than the average mortgage loan.
On the flip side, VA loans come with strict qualifying requirements, such as having a lower debt-to-income ratio and higher credit scores. They require you to put in more money up-front but don't offer a life insurance policy as the FHA loans do.
6. Government-Insured U.S. Department of Agriculture (USDA) Loans
A USDA loan is a guarantee by the U.S. Department of Agriculture to help you receive an affordable home loan to purchase a house in rural areas or designated underserved areas. It is available to any qualified homebuyer, regardless of income and credit history, and allows you to make lower down payments.
However, there are some limitations, such as being only able to borrow up to 97% of the home's value and having higher closing costs. You'll also get a lower interest rate on these loans, but make sure that your options are best for your situation and your plans.
Is there a mortgage loan that's right for you?
No matter which mortgage loan you choose, it's important to know your options before deciding. The best way to do this is to consider your current financial situation, future borrowing or spending plans, the loan's credit score and down payment requirements, and any possible restrictions on the property that you're looking at.
If you have a low credit score or are overwhelmed by other financial obligations, then a more affordable option might be best. However, if you're getting close to retirement age or have a higher income, having fewer property value constraints might be best for your specific situation. The bottom line is that every mortgage option has its benefits, and it's worth doing your homework to see which one will work best for you.
If you're unsure which option to choose, contact us at Rose Group to answer your questions and concerns during the home-buying process.