Homeownership is a dream for most people, with good reason as it comes with many benefits. Most potential homebuyers consider how such a purchase will affect their finances, and there are many financial as well as non-financial benefits to owning a house. For one, when you own your own home, your assets grow larger than someone who rents. If you are considering buying a home, here are some more benefits you should know about.
Financial Benefits
Homeownership Tax Deductions
When tax time comes every year, homeowners search for tax breaks. Luckily there are plenty of tax deductions that can add up to several thousand dollars. The biggest deduction to itemize is mortgage interest. You can deduct the interest up to a limit depending on when you take out your mortgage. Home equity loans interest is also deductible if you use the funds to substantially improve your home. You can claim home office deductions if you use part of your home exclusively for official purposes. You can get breaks on property taxes, but it's limited. Add up all the tax deductions you qualify for and itemize. You should take full advantage of the tax benefits to save some money every year.
Build Up a Financial Portfolio
An investment or financial portfolio stores all your assets; it's more of a concept than physical space. A solid portfolio can help you achieve long-term financial dreams. You might even repay your mortgage early or consider other investments. You can have some control over your financial future. Whether you realize it or not, purchasing a home will be great for your portfolio. You will have a higher risk tolerance, allowing you to embrace most opportunities that come your way. A house is a major asset whatever way you look at it; it will diversify your portfolio and let you dive deeper into investing. You can start thinking about the financial steps you want to take for the future.
Mortgage Is A 'Good Debt'
Most creditors see a mortgage as good debt since it's secured by the value of your home. Your ability to maintain mortgage payments is seen as debt responsibility and financial stability. Debt is seen by most as the greatest threat to financial independence, but mortgage debt is the only one that defies all the rules. Credit score agencies usually add points if you can manage different debts. Your mortgage might help you improve your credit score. It's also one of the few safe loans with low interest because your property is a guarantee that the loaned funds can quickly be recovered if a problem arises. The interest is also tax-deductible, which potentially makes the loan even less expensive.
Home Equity
Your home equity is the difference between what you owe and how much you can sell the house for. The more you pay your mortgage, the more your equity grows. If you have a reliable source of income and know you can repay, a home equity loan may be an option as you can use your home equity as collateral and acquire some funds. You can do plenty of things with such loans to improve your home or invest in other things. Home equity loans are typically called second mortgages, and you can use them for large expenditures.
Non-Financial Benefits
Security and Privacy
The highest level of privacy you can attain is being able to decide who does and does not enter your home. You can use a modern security system to keep your belongings and loved ones safe; you are free to add as many security features as you want to your house. When you are renting, you won't have exclusive rights to the property, which means less privacy and security.
A Place to Raise a Family
Having enough room to play outside becomes a higher priority when you have a family with children. You want your children to have the best upbringing possible and having a home will be part of it. You can hold family gatherings, cookouts, and many other family-exclusive activities because you have the space. Apartments can restrict you from having pets. But when you finally have your own house, you can get the pet you have always dreamed of. A home gives you and your family endless possibilities, especially when you have a private outdoor space. Having a garden might also be possible; you can turn the home into your private paradise. You can also pick a location with the best school district.
Personalization
You are probably tired of making an apartment feel like home when you don't have any freedom to customize it however you like. Home buying can change that. You have the freedom to create the home you want, starting with the house design, decorations, and paint. Pick the colors and the style you want to make your dream home a reality. Renovate the space when you see fit, hang pictures and art for a more personal feel. Customize the home to make your pets and family members (not to mention your guests) feel comfortable.
Stability and Happiness
Homeownership has a liberating feeling you will never take for granted. If you have been a long-term renter, purchasing a home is indeed a level up. It gives you happiness and a sense of stability. It's a haven for you and your kids if you have always dreamed of having a family. Maintaining a stable environment like a home is emotionally satisfying. Putting down roots allows you to form friendships that last a lifetime. Your neighbors become part of your community which reinforces the sense of stability.
Final Thoughts
There is no doubt that home buying is a worthwhile investment because of these benefits. If it's your goal to be a homeowner someday, start working towards that. Once you own a property, you can do so many things that aren't possible as a renter. Homeownership comes with a sense of pride and feeling settled in your community can improve your quality of life.
Ready to invest in the real estate market? Get in touch.
The process of buying or selling a home can be very complicated, so you need to be ready for what comes next after your offer is accepted.
Home buying can be an exciting and stressful time. The process of searching for homes, making an offer, and closing on a home can take anywhere from three weeks to several months. Furthermore, getting approved for a mortgage, having inspections performed on the house, and completing all other steps can quickly feel overwhelming. Real estate transactions are complex, so it's essential to be prepared for what comes next after your offer is accepted. Once your offer is accepted, the next steps in the home buying process include:
Escrow Opening
After an offer is accepted, the first thing to do is open an escrow account. The buyer and seller sign the necessary paperwork to transfer funds to ensure that inspections, appraisals, and other items outlined in the contract are completed. While the homeowner oftentimes covers the cost of the home inspection, there may be additional fees that come with the buying process. In addition, the buyer's lender will require an appraisal to ensure that the home is worth the purchase price. The buyer should also review the title and homeowner's insurance policy at this time to make sure there are no surprises down the road. This is also a good time to review the title and home insurance policy. Be sure to ask any questions you may have about either document. Furthermore, it is important to know what the escrow company is and what they will be doing on behalf of the buyer and seller.
Mortgage Documents
The lender will need a few things in order to finalize the mortgage; among them are copies of the signed purchase agreement, title report, proof of funds, and your loan application. Be sure to have everything ready to go so that the process can move along smoothly. In addition, it's important to be aware of your credit score and what you can do to improve it if needed. Most lenders require a credit score of at least 620 to qualify for a mortgage. The sooner you can provide these documents to the lender, the sooner they can process everything and avoid any delays. This is particularly important for borrowers who are self-employed or have a less-than-perfect credit history. Moreover, many buyers choose to lock in their interest rate at this time, so the sooner you submit your loan application, the more likely you are to get the rate you want.
Home Inspection and Appraisal
Home inspection and an appraisal are two of the most critical steps in the purchase process. The home inspector will check for any major repairs that need to be made before closing, and the appraiser will ensure that the home is worth the price you agreed to pay. If there are any major repairs that need to be made, this is the time to negotiate who will pay for them. Furthermore, you don't want to buy a home that has been significantly damaged. The appraiser will point out any major repairs or other issues with the house, and it is best if you know about them before going through with the sale. A home loan is based on the value of the property, so a low appraisal could lead to your offer being rejected. This is the most challenging part of the home buying process for many buyers. In some cases, a buyer can come to an agreement with the seller that covers items such as closing costs or repairs.
Transfer of Utilities and Other Home Bills
After your offer is accepted, the next thing to do is to contact all of the utility companies and transfer services. Bills can still be sent to previous owners for a couple of days, but it's important that new homeowners take control of their utilities as soon as possible. This will reduce the chances of a power outage or any damage to appliances and fixtures during the moving process. Furthermore, if the previous owners are staying past closing, they will need to vacate by the time of possession or negotiate an extension with your realtor or lawyer. In some cases, new homeowners may have final bills from the seller's portion of the home, which may need to be negotiated in the contract. Home selling and buying is a complex process that can be overwhelming for first-time buyers. By knowing what to do next, you can ensure a smooth transaction. For more information, please consult with your realtor or lawyer.
Final Home Evaluation and Review
Now is also a good time to ask for a final home evaluation. The inspector will come back and make sure there were no additional problems, and the lender will go over closing costs and how they will be paid. These can include points, real estate commissions, loan origination fees, transfer taxes, recording fees – all things that you should be prepared for. Homebuyers should also take the time to review their closing statement. A final home evaluation ensures that everything is in order before you close on the property, and it's one of the last things you can do before becoming a new homeowner.
Purchasing a home is a huge investment, contact a licensed realtor to walk you through the process and to make sure that everything is done correctly. By following these tips, you can ensure a smooth home buying process. These are just a few of the things you need to do after your offer has been accepted. With a little bit of preparation, you'll be ready to close on your new home and start moving in.
The process of home selling can be overwhelming. There are many things to do, and it's important to make sure you get everything in order before contacting a real estate agent. Let us help you prioritize the most important tasks when you are selling your home.
Set a reasonable selling price
The first step to selling your house is deciding on a reasonable asking price. There are many ways you can find out, this includes checking the most recent home prices in your neighborhood, checking online listings and looking at recently sold properties or houses for sale.
As a home seller, you should also include how much money it will cost to fix up any problems with the property so that real estate agents have an accurate idea of what houses similar to yours are going for when they bring in potential buyers.
If you want some help determining whether or not your asking price is reasonable, talk with a real estate agent about getting an appraisal done before putting up any "for sale" signs.
Schedule pre-sale home inspection
One of the most important things to do before you put your house up for sale is get a pre-sale home inspection done. This will help you and any potential home buyer determine if there are major issues with the property that may be costly or difficult to fix, such as termite damage or leaks in your roof.
You can either hire an inspector yourself or ask a real estate agent to request one on your behalf; agents tend to have access discounts for this type of service. Once they've completed their evaluation, make sure it's available when prospective buyers visit, so they know everything about the condition of your home ahead of time.
Stage your house for sale
One of the most effective ways to sell a house is by staging it. Rather than leaving your real estate agents and potential buyers with their imagination, you can hire professional home stagers who will prepare the property for showing in a way that highlights its best features while downplaying any flaws.
Staging is usually done through subtle adjustments like repositioning furniture or replacing old accessories; it is also important to prioritize repairs and renovations; and repaint walls and fix cracks. Also, a renovation will give buyers a better idea of how much money they may have to put into the house after purchasing it.
The goal isn't to fix everything yourself because realtors often have access to good deals on rental equipment, but rather give them an idea of what you plan on doing before anyone moves in so that your place looks sharp without too many extra costs incurred. You should also do some basic cleaning before listing your home as well.
Cleaning can go a long way beyond just leaving your home sparkling clean; this simple act can let visitors know how much pride you take in maintaining the property, which will work towards their comfort level with buying from you
If you're not sure how to go about doing this, real estate agents and stagers often work together, so talk with yours if you want some ideas.
Collect the required paperwork to close
Before you sell your home, there are some documents that you'll need to gather. Collect any paperwork related to the property's title and ownership of it, including deeds, titles, or tax records.
You will also need mortgage information if someone is refinancing the loan on your home; This includes documentation like copies of statements for all loans associated with the property as well as final payoff figures, so you know exactly what money (if any) needs to be collected before closing.
Make sure every single document is accurate because errors may cause delays in selling or even prevent a deal from going through altogether. If anything seems out-of-place here, consult with an attorney who knows how real estate transactions work because they should be able to advise on the best way to resolve it.
Review and negotiate offers are necessary to secure the sale of your house. Put the documents in their respective sections, so they don't get lost amidst everything else you need to organize. It is best not to worry about them until after reaching an agreement with someone interested in buying.
Prepare your move to a new home
When moving out, you should set a date with your realtor so they can set up a showing for prospective buyers. If you have pets, find a new home that will accept them or start planning how to re-home them before moving out because many rental properties won't allow animals.
Start packing as soon as possible and get rid of everything you don't need anymore. Sell what is valuable but try not to spend too much money buying anything else during this process since it could be difficult if time runs short.
You'll also want to make sure all bills are paid in full before leaving the property behind by contacting each service provider about switching accounts over. It can be hard to move out of a house since you are emotionally attached to it, but you can make the process easier by staying organized about everything that needs to be done.
Selling your house can be a nerve-wracking experience. When you're in the process of listing and preparing for sale, it is important to consider the above home seller guide.
The most successful sellers follow these five simple steps when they go into their new chapter as homeowners: set a reasonable selling price, schedule pre-sale home inspection, stage your house properly so potential buyers are impressed by how well cared for it is, collect necessary paperwork from past homeowner or mortgage lender and prepare yourself mentally with an emotional detachment plan because this could be one of the largest life decisions you make.
We at Rose Group are ready to Sell Certified! We can help you get your home prepped for sale without the hassle or any out-of-pocket costs.
Wondering how much house you can afford?
As a first-time homebuyer, you may be wondering how to save money on your mortgage. The best and smartest way to go is by getting pre-approved for a mortgage before you start looking at homes. If you get approved beforehand, it can save time because when selecting homes for purchase, the potential buyer will only need to see houses within their price range or loan limit. Below is more information about pre-approval and its advantages.
What is the difference between Pre-approval and Pre-qualification?
When you are first getting started with the loan application process, two steps need to be completed. The first step is pre-qualification. Pre-qualification is a rough estimation of how much money a lender is willing to give you based only on the data they have at hand. This includes your income, credit score, and debts or liabilities.
However, this information may not be complete or up to date. You can continue with the second step which is pre-approval. Pre-approval means that your lender has more access to your financial data and is willing to give you a final number on how much money they will lend you for the house purchase. This is based on the information you provide to the lender.
Advantages of Pre-approval
Instant loan approval and disbursal – Being pre-approved will get you to the next step of your home buying process. You can get any money needed for the down payment, closing costs, and fees disbursed at once upon closing on your home.
Flexible repayment loan period – Being pre-approved allows you to look at homes in the future and beyond your seller's closing date. You can apply for a loan with an adjustable-rate, but choose a repayment period of up to 30 years.
Paperless – The pre-approval process is paperless for homeownership. You can do it all electronically instead of wasting time faxing in forms and running between your computer, printer, and mailbox. On average, you get an approval or denial within 48 hours of submitting the final form.
Disadvantages of Pre-approval
Interest may increase – If you are looking to borrow a significant amount of money for real estate, the interest rate may increase after you are pre-approved for the loan. This is because your credit score does not stay the same over time, and it needs to update it every six months.
No closing costs or fees saved – When applying with a lender who offers pre-approval, you are not given money for closing costs or expenses in advance. You will have to put this money down when the time comes to go to closing.
Mismatch in your documents leads to declination – Another major disadvantage of pre-approval is that you may not receive final approval that matches the lender's needs.
Pre-approval doesn't necessarily mean you are approved for the loan – A final point to make is that pre-approval does not necessarily mean you are approved for the loan. There will be a different amount of paperwork and documentation required to show the lender that you are qualified for a home loan.
Advantages of Pre-qualification
Helps you negotiate better – When you are pre-approved for your loan, the lender gives you a final number to use when negotiating your price. This means that you can be more assertive with the Realtor and not go back and forth as much.
Shows you are serious – Being pre-qualified makes you appear serious about purchasing a home. This can help in your negotiations because lenders will know you aren't just shopping around.
Helps your case close faster – When your offer is submitted, the lender will make a quick decision on whether they will accept or deny it. This means you can get into a contract and close faster than if you had to wait for the pre-approval decision.
Disadvantages of Pre-qualification
Affects your credit score – Since your credit score is pulled more than once during the pre-qualification process, it can affect this number. If you are not careful with which lenders pull your score, you may end up with more bad marks on your report.
No loan is guaranteed – Unlike pre-approval, there is no guarantee that you will be approved for a loan. You are still responsible for all of the paperwork and signing.
When to Request for Pre-approval?
If you were already pre-qualified with a lender and had been looking at homes from a real estate agent, it is best to request a pre-approval. It can definitely help when you're purchasing a home.
Who Avails a Pre-approval?
Almost all lenders offer this service today, but it can vary depending on which company you choose. You also have the option of applying with a broker who may find a lender who offers pre-approval with lower interest rates and fees.
How to get Pre-approval or Pre-qualification?
The very first step you need to take is to check your credit score. This can be done on a free website. If your credit score falls below the minimum threshold set by the lender, you will have to improve it before applying for a pre-approval.
If you are already meeting the floor price set by the lender, you may proceed to apply. Fill out all required paperwork honestly and completely if you want to improve your chances of being approved.
Requirements for getting Pre-approval
If you want to get pre-approval for a loan, you need to have decent credit. Many lenders will require a FICO score of 640 or higher before they can approve your request.
Also, to be considered for pre-approval, you'll need to prove that you can repay the loan that you apply for. This can include having a steady income or access to funds through another source. The lender may also ask about what your total debt is compared to how much you make monthly.
Pre-approval for a home loan can help you get the best rates, but it also requires more effort than simply applying for prequalification. You will have to prove that you are serious about purchasing by showing steady income and access to funds. This can be difficult for some people to prove, but your chances of being pre-approved increase dramatically if you do it right.
If you are looking forward to getting a loan preapproval or prequalification so that you can buy a home, reach out to us. We are a team of experienced realtors and we will give you professional advice from preapproval to moving into your new home.
Owning a home is a huge investment but the upkeep can be costly without a home warranty.
Homeownership has many advantages. It's key to building wealth. That's why for most people, their home is their most valuable asset and represents the majority of their net worth. But owning a home comes with some maintenance costs.
Not only does a home cost a great deal to acquire, but it also costs quite a bit to maintain. Some estimates place the ongoing yearly costs of owning a home at around 5% of its value. For the average home in the US, that works out to over $13,000 per year. There is plenty of uncertainty built into that number. For example, having a major appliance break could add thousands of dollars to that total. And there's no way to know when an unexpected expense will overwhelm your budget.
That's where home warranties come into play.
Home warranties are a popular way for homeowners to try to contain the costs of homeownership and eliminate unexpected expenses. Here's an overview of what they are, how they work, and when they're worth investing in. Let's dive in.
What is a Home Warranty?
Unlike insurance, it's a service contract designed to cover the cost of the repair or replacement of major household items. In most cases, they cover things like large kitchen appliances and the home's major systems. But home warranties aren't insurance. They only cover costs associated with the normal wear and tear of covered items. So, if, for example, your refrigerator got damaged due to flood – it wouldn't pay to replace it.
Home Warranties vs. Home Insurance
That is, in fact, the primary difference between home warranties and a homeowner's insurance policy. The former covers the costs associated with routine maintenance and care for a home's major systems, while a homeowner's insurance policy pays for unexpected damage to property in the home. It protects against losses connected to things like fires, floods, and theft. Together, the two provide comprehensive protection for both the routine and extraordinary costs associated with owning a home.
What Do Home Warranties Cover?
Although different providers offer warranty plans that cover various items in a home, there are some covered items most of them share. These include:
Major Systems
• Plumbing
• Electrical
• Heating / Ductwork
• Hot water systems
Major Appliances
• Central or split-unit air conditioning systems
• Dishwashers
• Refrigerators
• Ovens, ranges, and cooktops
• Garbage disposal units
• Garage door openers
Depending on the provider, it's often possible to add warranty coverage for other household items like:
• Roofs
• Well pumps
• Septic tanks
• Pool and spa equipment
What Don't Home Warranties Cover?
In most cases, home warranties don't cover the structural components of a home. That means they don't cover things like walls, windows, foundations, and doors. They also won't cover solar panels because they're considered a structural item.
And home warranties also won't cover commercial appliances. That means they don't cover many high-end kitchen items from major brands like Sub-Zero and Thermador. And they also don't cover duplicate items by default. That means homes with a second kitchen would need to purchase additional coverage for all of the items in it – even if they're the same items in their primary kitchen.
But even covered items are subject to certain restrictions, such as a home warranty won't cover pre-existing damage to a covered item. Every item must go through a visual and operational examination before it's eligible for coverage. At that time, a representative of the warranty provider will check for obvious damage to each item and conduct a basic test to see that it's functioning normally.
Even then, most home warranties feature a 30-day waiting period before they go into effect. That way, the company can rule out most undetectable pre-existing problems with covered items. It is designed to prevent a homeowner from purchasing a policy to cover an appliance they know is about to fail.
There are also limits to what home warranties will pay to repair or to replace covered items. Some impose limits on a per-item basis. For example, a policy might specify a maximum of $1,000 for microwave or $3,000 for an HVAC system. Others set a maximum limit that applies to all covered items, which usually represents the maximum replacement cost of the most expensive covered item.
When to Buy Home Warranty Coverage and What it Costs
In most cases, home warranties are worth purchasing for anyone buying a secondhand home. This is because it's often impossible to know the true condition of a home's major systems or if they've been put through excessive wear and tear. And because purchasing a home is a significant investment, the last thing a new homeowner would want is a string of unexpected expenses right after they move in.
For the same reason, people selling their homes might purchase coverage to convince would-be buyers that everything in the house is in reasonable working order. Doing so serves as a guarantee to the home's new owners that they're not going to end up paying for the damage done by its previous owners. In that way, homeowners' warranties make an attractive addition to a home that's listed for sale.
The costs of a home warranty are reasonable enough that either party would be well-served by purchasing a policy. The average cost comes in at between $25 and $50 per month, which works out to between $300 and $600 per year. After that, the only other cost is a reasonable service call fee between $75 and $125 when something breaks. So, the first time that a major covered appliance needs replacing, the policy will more than pay for itself.
Buyers of newly-built homes typically don't need home warranty coverage. This is because most homebuilders offer similar coverage for at least a year after a home's completion, and it comes standard with the purchase of the home. Plus, new major appliances come with their own warranties that cover major problems for a year or more after purchase. It wouldn't make sense to purchase coverage until several years into the home's existence in those cases.
The Bottom Line
Any way you look at it, home warranties are a smart way to manage some of the ongoing costs of homeownership. But they're not for everyone, and anyone buying a policy should do their homework and read all of the fine print before buying coverage. Like insurance, a home warranty can seem costly when you don't end up using it – but it can be a lifesaver when bad luck strikes and multiple appliances break in quick succession.
Get in touch with us for professional help on your real estate investment journey, call 650 550 8646.
Prepping to put your house up for sale? Your goal is to sell it quickly and at the highest possible price.
Speaking of getting your home on the market, home staging plays a key part to impress your potential buyers. It involves decluttering, rearranging, and remodeling your home. Keep in mind that homebuyers come from various walks of life, thus when staging your property ensure that it is eye-catching to everyone.
There are professional home stagers that you can hire and even experienced real estate agents can do some staging themselves. However, you can also choose to be hands-on and do it yourself. The infographic below will guide you through the home staging process:
The bottom line is that staging can increase your home's purchase offers, but you don't need to stage every room of the house. Focus your efforts on the most usable spaces of the home. Get professional advice from an established real estate group to discuss the best strategy for selling your home and prepare it for a successful open house. Call 650-550-8646 or send an e-mail to team@rosegroupre.com.
Are you ready to buy a house?
Whether it's an investment property, a place to move and build a family, or a space to grow old in, buying a home for the first time is a big step. It's both a major financial and emotional decision.
A house is likely the most expensive purchase of your life, so it can be a bit overwhelming. It is totally understandable. To help you feel as prepared as possible and eliminate a lot of the stress, we've come up with these tips that should guide you through the home-buying process.
1. Check your financial health (savings and spending)
Do you have savings? Calculate your monthly expenses and debt-to-income (DTI) ratio, which should be at a maximum of 43%. It is essential to know where you stand in your finances to strengthen your credit score – this will determine if you qualify for a mortgage. Consider having an emergency fund for three to six months' worth of expenses. When you buy a home, there will be a down payment and closing costs.
2. Save for a down payment
Save enough money for a 20% down payment (or more). Your down payment will depend on the type of mortgage you choose and the lender's terms. Some lenders allow as low as a 3% down payment for first-time homebuyers with excellent credit scores. Also, keep in mind that as a homeowner you will be responsible for all the maintenance and upkeep costs.
3. Make a list of your home must-haves and nice-to-haves
What does your dream house look like? Write down specific features and amenities that you need for your ideal home. You can also include the location, neighborhood, and size of the house and lot. You can make a separate list of the home features that are less important, that you can do without upon purchase. This is your first home; you deserve a house that grants most (if not all) of your wishes but be realistic.
4. Understand your home loan options
Don't worry about not being able to pay cash for a home because there are a variety of mortgages with varying down payment and eligibility requirements:
Conventional mortgages target first-time buyers and require as low as a 3% down payment, but this is not guaranteed by the government.
FHA loans are granted by the Federal Housing Administration and allow down payments as low as 3.5%.
USDA loans are regulated by the U.S. Department of Agriculture for rural homebuyers, requiring very low to no down payment.
VA loans are for veteran military service members and are guaranteed by the Department of Veterans Affairs and do not require a down payment in most cases.
By the way, you also have options when it comes to how long you are going to pay a home loan, anywhere from 15- to 30-years.
5. Get a mortgage pre-approval
A mortgage pre-approval determines how much house you can afford. Lenders will take into consideration your financial situation, including monthly income, DTI, and credit score. They will then provide you a statement that you are qualified to take a loan and how much a lender will give you to buy your first home. With a mortgage pre-approval, your home financing is already secured, and it shows the seller that you're a serious buyer.
8. Attend open houses and home buying assistance programs
Your mortgage pre-approval will give you an idea of how much you can spend for your first home, which will help you narrow down your house requirements. Attend several open houses in the neighborhoods you want to live in to give you the chance to learn more about the area, its facilities, and community culture. Take advantage of home buying assistance programs from local government and realtors.
6. Submit a competitive offer
First of all, hire a trained professional to do an inspection of the property you're interested in, so you'll know the condition of your potential new home. This way, you can negotiate your offer with the seller, such as paying for the repairs. You can also ask them to lower the price to cover the cost of repairs. There are instances that the seller will pay some of the closing costs if the offer is right.
7. Work with a real estate agent
An excellent real estate agent knows the ins and outs of the market, finds you homes that match your criteria, and guides you through the entire process. Communicate with your agent regularly. Your home-buying journey will be a lot easier when you're working with a real estate professional.
Always remember...
9. Stick to your budget (factor in the closing costs)
Don't go over budget. As a first-time homebuyer, it is natural to get excited shopping for a perfect house that ticks everything in your checklist, forgetting what you can truly afford. Have enough money for repairs and renovations.
Remember to consider closing costs in your budget. These fees pay for important steps in the home-buying process, including:
Appraisal
Home inspection
Credit report
Attorney
Homeowner's insurance
10. Save Physical Copies of Your Paperwork
Keep the physical copy of your mortgage statements, deed, Closing Disclosure, vendor and supplier receipts, property insurance policy, and other important real estate records. Compile them all together for easier access and lock them in a fireproof cabinet, if possible.
Now back to the first question, are you ready to buy a house? Tap a highly rated real estate agent nearest you; contact us today!
How long have you lived in your current home? If it's been a while, you may be thinking about moving. According to the latest Profile of Home Buyers and Sellers by the National Association of Realtors (NAR), in 2019, homeowners were living in their homes for an average of 10 years. That's a long time to be in one place, considering the average length of time homeowners used to stay put hovered closer to 6 years.
With today's changing homebuyer needs, especially given how the current health crisis has altered our daily lifestyles, many homeowners are reconsidering where they're at and thinking about moving to a home with more space for their families. Here's why it might be a great time to make that happen.
The real estate market has changed in many ways over the past 10 years, and current homeowners are earning much more equity today than they used to have. According to CoreLogic, in the first quarter of 2020 alone, the average homeowner gained approximately $9,600 in equity. If you're considering selling your house right now, you may have accumulated more equity to put toward a move than you realize.
Dialing back 10 years, many homeowners also locked in a fairly low mortgage rate. In 2010, the average rate was only 4.09%. This motivated homeowners to stay in their houses longer than usual to keep their rate low, rather than moving. Just last Thursday, however, average mortgage rates hit a new historic low at 2.86%. Sam Khater, Chief Economist at Freddie Mac explains:
"Mortgage rates have hit another record low due to a late summer slowdown in the economic recovery…These low rates have ignited robust purchase demand activity, which is up twenty-five percent from a year ago and has been growing at double digit rates for four consecutive months."
Ten years ago, we couldn't have imagined a mortgage rate under 3%. Looking at the math today, making a move into a new home and locking in a significantly lower rate than you have now could save you greatly on a monthly basis, and over the life of your loan (See chart below):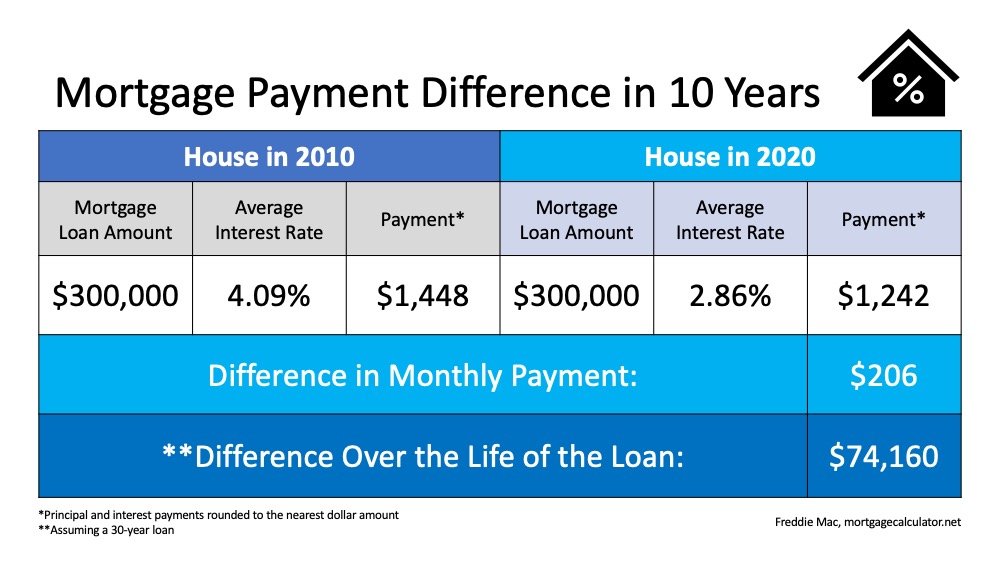 As the example shows, you can save a substantial amount every month if you qualify for today's low mortgage rate, and the savings can really add up over the life of a 30-year fixed-rate loan.
Bottom Line
As a homeowner, you have a huge opportunity to move up right now. Whether you want to save more each month or get more home for your money based on your family's changing needs, it's a great time to connect to discuss the market in our area. Buyers are actively looking for more homes to buy, and you can win big by making a move if the time is right for you.
The year 2020 will be remembered as one of the most challenging times of our lives. A worldwide pandemic, a recession causing historic unemployment, and a level of social unrest perhaps never seen before have all changed the way we live. Only the real estate market seems to be unaffected, as a new forecast projects there may be more homes purchased this year than last year.
As we come to the end of this tumultuous year, we're preparing for perhaps the most contentious presidential election of the century. Today, it's important to look at the impact past presidential election years have had on the real estate market.
Is there a drop-off in home sales during a presidential election year?
BTIG, a research and analysis company, looked at new home sales from 1963 through 2019 in their report titled One House, Two House, Red House, Blue House. They noted that in non-presidential years, there is a -9.8% decrease in November compared to October. This is the normal seasonality of the market, with a slowdown in activity that's usually seen in fall and winter.
However, it also revealed that in presidential election years, the typical drop increases to -15%. The report explains why:
"This may indicate that potential homebuyers may become more cautious in the face of national election uncertainty."
Are those sales lost forever?
No. BTIG determined:
"This caution is temporary, and ultimately results in deferred sales, as the economy, jobs, interest rates and consumer confidence all have far more meaningful roles in the home purchase decision than a Presidential election result in the months that follow."
In a separate study done by Meyers Research & Zonda, Ali Wolf, Chief Economist, agrees that those purchases are just delayed until after the election:
"History suggests that the slowdown is largely concentrated in the month of November. In fact, the year after a presidential election is the best of the four-year cycle. This suggests that demand for new housing is not lost because of election uncertainty, rather it gets pushed out to the following year."
Will it matter who is elected?
To some degree, but not in the overall number of home sales. As mentioned above, consumer confidence plays a significant role in a family's desire to buy a home. How may consumer confidence impact the housing market post-election? The BTIG report covered that as well:
"A change in administration might benefit trailing blue county housing dynamics. The re-election of President Trump could continue to propel red county outperformance."
Again, overall sales should not be impacted in a significant way.
Bottom Line
If mortgage rates remain near all-time lows, the economy continues to recover, and unemployment continues to decrease, the real estate market should remain strong up to and past the election.
As remote work continues on for many businesses and Americans weigh the risks of being in densely populated areas, will more people start to move out of bigger cities? Spending extra time at home and dreaming of more indoor and outdoor space is certainly sparking some interest among homebuyers. Early data shows an initial trend in this direction of moving from urban to suburban communities, but the question is: will the trend continue?
According to recent data from Zillow, there is a current surge in urban high-end listings in some larger metro areas. The month-over-month increase in these homes going on the market indicates more urban homeowners may be ready to make a move out of the city, particularly at the upper end of the market (See graph below):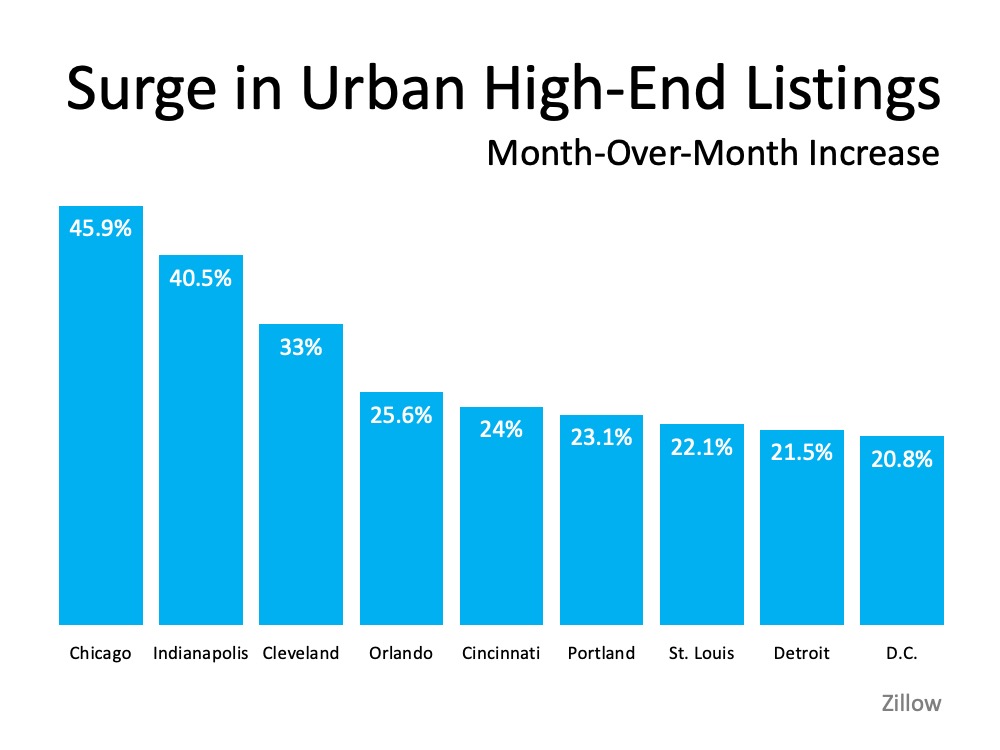 Why are people starting to move out of larger cities?
With the ongoing health crisis, it's no surprise that many people are starting to consider this shift. A July survey from HomeLight notes the top reasons people are actually moving today:
More interior space
Desire to own
Move from city to suburbs
More outdoor space
More space, proximity to fewer people, and a desire to own at a more affordable price point are highly desirable features in this new era, so the list makes sense.
John Burns Consulting notes:
"The trend is accelerating faster than anyone could have predicted. The need for more space is driving suburban migration."
In addition, Sheryl Palmer, CEO of Taylor Morrison, a home building company, indicates:
"Most recently, we're really seeing a pickup in folks saying they want more rural or suburban locations. Initially, there was a lot of talk about that, but it's really coming through our buyers today."
The National Association of Home Builders (NAHB) also shares:
"New home demand is improving in lower density markets, including small metro areas, rural markets and large metro exurbs, as people seek out larger homes and anticipate more flexibility for telework in the years ahead. Flight to the suburbs is real." 
Will the shift pick up speed and continue on?
The question remains, will this interest in suburban and rural living continue? Some, like Lawrence Yun, Chief Economist at the National Association of Realtors (NAR) think the possibility is there, but it is still quite early to tell for sure. Yun notes:
"Homebuyers considering a move to the suburbs is a growing possibility after a decade of urban downtown revival…Greater work-from-home options and flexibility will likely remain beyond the virus and any forthcoming vaccine."
While much of the energy behind this trend has largely been accelerated by the current health crisis, monitoring the momentum over time is critically important. Businesses are discovering new and innovative ways to function in remote environments, so the shift has the potential to stick. Much like the economic recovery, however, the long-term impact may hinge largely on the health situation throughout this country.
Bottom Line
Early data is showing a shift from urban to suburban markets, but keeping an eye on this trend will help us understand how it will ultimately play out. It may just be a temporary swing in a new direction until Americans once again feel a sense of comfort in the cities they've grown to love.